Tomorrow we get the release of the AWOTE measure of wages which is widely known and probably more commonly watched than today's wage cost index which was just released. The WCI is a little more obscure so it probably worth explaining what the ABS says it measures:
The wage, non-wage and labour price indexes measure changes over time in the price of labour unaffected by changes in the quality or quantity of work performed. A range of procedures have been developed to identify and measure quality and quantity changes and ensure that only pure price changes are reflected in the indexes
 
Price-determining characteristics of the jobs are detailed in fixed pricing specifications and any changes in labour payments due to changes in the pricing specifications do not contribute to index movements. The following are examples of changes in price-determining characteristics which are not reflected in index movements:
 
•             changes in the nature of work performed (e.g. different tasks or responsibilities)
•             changes in the quantity of work performed (e.g. the number of hours worked)
•             changes in the characteristics of the job occupant (e.g. age, apprenticeship year, successful completion of training or a qualification, grade or level, experience, length of service, etc.) changes in the location where the work is performed.
 
Changes in the price of labour resulting from changes in the composition of the labour market are also excluded from index movements. To achieve this, price movements for each segment of the labour market (defined by state/territory, sector and industry) are combined using expenditure weights that remain constant between successive weighting base periods.
To  the data: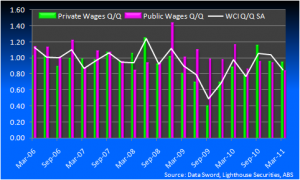 Total seasonally adjusted wages growth for the quarter in the private sector was 0.94%, public was 0.83% and overall was 0.84%, easing from the prior quarter.  
The trends are really interesting in that public sector growth has backed off materially from '09 and continues to pullback from those heady levels. The combination has wages moving back toward their long run average: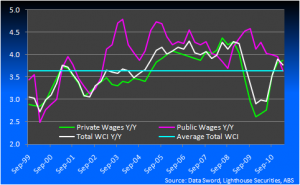 This data doesn't stop the RBA hiking on its own but wages are one of the key areas to watch and there is certainly no cause for panic here. Importantly the big employment sectors are all at, or below, the long run average growth rates in wages.
NAB has backflipped on a June rise following the release.