For almost a year now I have been warning about the Australian market. It became clear quite some time ago that the falling rate of credit issuance towards housing and the demographics of Australia where going to lead to downward pressure on prices. Most recently I have been stating that I can't see any new drivers for credit towards housing and that without some form of new government stimulus or a sudden influx of "cashed up" immigrants I can't see this changing any time soon.
So while watching the budget I was certainly on the look out for any signs that the government was about to step in and intervene once again in the housing market. There was certainly no announcements that you would call direct stimulus but there were two things that could have affects on the market. The first is the increase of the skill migrant program by 6000 extra people. This has the potential to drive up rents in some regional areas, however it must be noted that the number of people emigrating from Australia each year continues to rise so this increase may just be the government's attempt to offset this rise in emigration.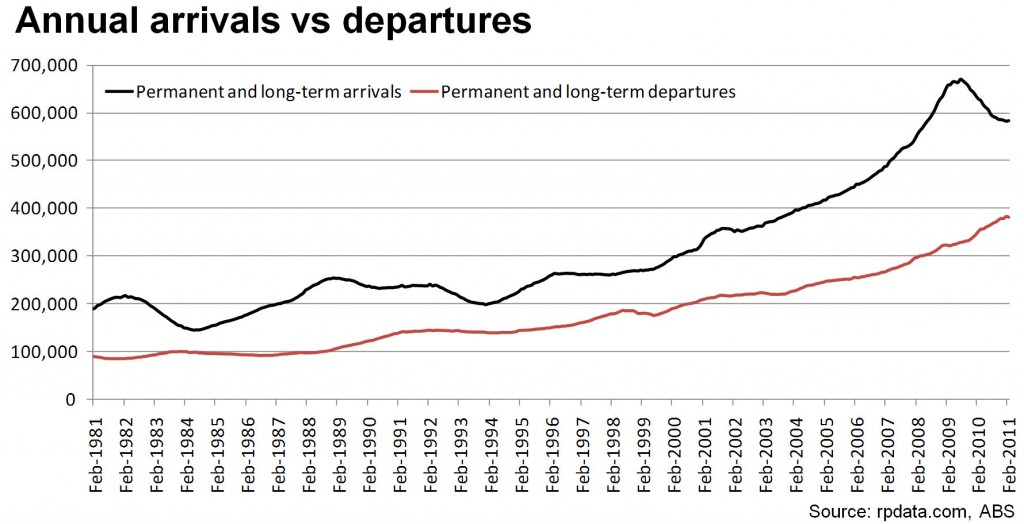 The other announcement that has the potential to effect housing is changes to the NRAS program. These changes are ….. errrrr …. a little odd. I will let the HIA explain.
Australians looking for relief from high home prices found little help in last night's budget, with some groups saying the lack of action on housing affordability was "absurd" and "nonsensical" as household costs rise. In the budget for 2011-12, the government slashed the number of affordable homes to be built under the National Rental Affordability Scheme (NRAS), left negative gearing untouched, while increasing the intake of skilled migration by 16,000.

By lowering the NRAS target to 35,000 a year from 50,000 a year, with priority for diaster-affected areas, the government pocketed $345.1 million over five years, which it said would be used to help rebuild flood-hit areas.

But the Housing Industry Association labelled the NRAS decision "disappointing and nonsensical."

"Given the budget's emphasis on cost of living pressures, it's absurd that programs that address Australia's extremely poor housing affordability be trimmed back," said HIA economist Matthew King.

"What we badly needed last night was increased investment in the NRAS scheme and a hastening of its implementation," he said. "We needed swift and decisive action in the short term, instead what we got was a delay."

Amid record high prices for houses – the national median home price hitting $455,000 in March – the federal government lifted the overall increase in the permanent migrant intake to 185,000 from 168,700 places, with the majority aimed at regional areas.
Now as my readers would well know I am always concerned about vested interests talking their own book, but you don't have to be a tin hat wearing fringe dwelling lunatic to find these changes odd. I am not sure that, as the HIA suggests, we need an increase in NRAS houses but a cut in a program that supplies lower cost housing to save a mere $70 million/year for five years seems very strange. Made even more odd by the fact that the treasury managed to find $222 million to put chaplains in schools.
So what is the NRAS program
The National Rental Affordability Scheme (NRAS) is a long term commitment by the Australian Government to invest in affordable rental housing.

The Scheme seeks to address the shortage of affordable rental housing by offering financial incentives to the business sector and community organisations to build and rent dwellings to low and moderate income households at 20 per cent below-market rates for 10 years. NRAS aims to:

increase the supply of new affordable rental housing;
reduce rental costs for low and moderate income households; and
encourage large scale investment and innovative delivery of affordable housing.
That is correct. While the government has left the sacred cow of negative gearing untouched, it has cut funding to a program that directly supports new housing supply. The Australian government has shown multiple times over many years that 'housing affordability' is not on its agenda and now there is downside pressure on the housing market I am not surprised at all to see a cut to this program.
But the logic isn't hard to follow. In Australia housing is not just shelter. It is also an investment vehicle developed by the government in the 90s in an attempt to create superannuation for a massive number of baby boomers who did not have enough savings to support themselves into retirement. By doing this the government has shifted this generation's dependency from the national pension system to the housing market. So until these people actually retire and manage to convert their assets into cash it is all "perceived wealth".
You can see from the example given yesterday by The Prince how this has played out. On a personal note that example is not too different from my own parent's balance sheet 2 or 3 years ago, they have since retired and sold all of their investment properties, in the same way that hundreds of thousands of boomers behind them plan to. The following graph shows the estimate growth by age group in family composition that will occur in Australia over the next decade, you can see that is heavily weighted towards the Boomer generation for the next 10 years.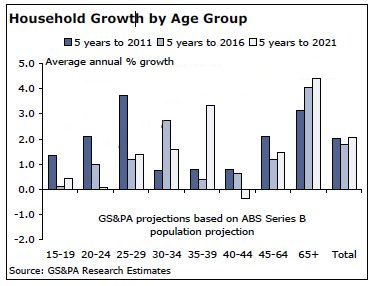 The ABS has estimated that the mining boom will generate $76 billion in investment this year. That it is a large amount of money, but compared to the $4 Trillion dollar housing market it is quite small. It would only take a house price fall of 2% nationally to wipe out that investment boom. I'm not saying this is a one to one correlation of course. One is capital investment and the other an asset value supported by debt.  But you get the sense of what falling house prices will do to households sense of prosperity.
So while the housing market has been rising sharply in the last few years the perceived wealth of the boomer generation has moves with it, and the same will be true for any fall. RPData's recent index claims that in Queensland housing is off 6.8% in the last 12 months. If we say Queensland is 15% of the nation market then this is a loss of $40billion dollars in wealth over the past 12 months in Queensland alone. Obviously these are rough estimates, but you can see that economies of scale are much larger in housing than they are in other industries and therefore even small fluctuations in value can have very large offsetting wealth effects for the nation.
And that outlines the government's challenge. The assets held by the large numbers of people on the right hand of the demographic chart need to be transferred towards the left, either via local credit expansion or via foreign capital transfer. The problem is that there is already large amounts of credit in the domestic banking system and much of it towards the left  of that graph. According to the RBA there is already $1.1 Trillion in mortgages in Australia. However without some significant increase in national wealth outside of housing, another large rise in credit or a sudden influx of rich migrants, that transfer simply cannot take place at a price that will see the boomers happily into retirement.
That is why in 2008 you saw them institute the First Home Owners Grant boost when the market looked as if it would fall, and now you are seeing them lowering supply in wait of the mining boom, which I assume they think is about to increase national wealth enough to keep the market alive.  If you believe the governments forecasts then they may be able to pull it off. However it is dependent on four things on top of those rosy estimates.
A willingness by younger generations to take on even more debt on housing, or accept an increase of foreign purchasing of local housing assets.
Ensuring the boomers don't panic and all try and sell at once.
Fiscal and monetary policy that supports the transition.
Having enough spare capital left over in the economy to transform it away from credit driven housing so that the younger generations don't realise they are being sold a lemon.
The latest SQM Research stock on market suggests that they may not be succeeding in their task, which is why I am still on the look out for even more housing stimulus.