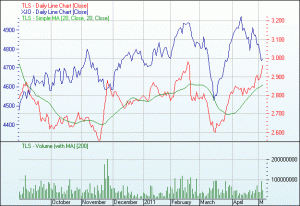 The market's scepticism about Telstra is one of the most sustained negative critiques of a big Australian corporate yet seen. It makes an interesting comparison to the euphoria about telcos in the first half of last decade. The scepticism may be partly attributable to the after effects of that era. The stock is on a dividend yield of 9.7% for this financial year and the next, and 8.9% for 2011-2012. Fully franked. That is very high, implying that the market is assuming a capital loss. It is a big negative bet. Southern Cross, interestingly, is starting to think again. It has a buy on the stock and a target price of $3.45:
We believe the market is pricing for material uncertainty (eg NBN, operating strategy, Future Fund overhang). Recent events, including today's disclosure of 3Q11 net adds, give us greater confidence that these uncertainties are improving. We believe strong sales momentum can translate to earnings growth and as such we are 9% ahead of consensus EPS for FY13e. We have retained our BUY with a $3.45 TP.Whilst TLS is trading on 11.6x FY11e earnings, we see FY13e (9.6x PER) as more reflective of an operational and earnings turnaround. Our $3.45 TP equates to 11.3x FY13 EPS, and we are 6%/9% ahead of FY12e/13e EPS consensus. TLS is supported by a compelling 9.6% dividend yield.
Most other brokers are steering a middle ground, a not unusual strategy. Macquarie has an outperform rating (code for: "it might go up, we don't really know, but on the other hand we don't want to be caught out if it does") and a target price of $3. It projects a total shareholder return of 13%:
Subscriber growth trends remain strong: Telstra presented March-quarter subscriber growth for a number of services indicating very strong growth trends have continued. Post-paid mobile sub growth has accelerated, no doubt boosted by Vodafone's network issues around Christmas time. In addition, retail fixed broadband momentum held up, and we estimate Telstra is on track to capture ~70% of net sub adds.
Deutsche Bank plants itself firmly on the fence with a hold recommendation and the same target price of $3:
Despite strong subscriber growth, Telstra reaffirmed its guidance of flattish revenue growth and a high single digit EBITDA decline in FY11 due to costs incurred as part of its new strategy. This is consistent with our expectation of 0.3% sales revenue growth and 9.1% decline in FY11, implying 2H11 EBITDA decline of 8.6%.
What is that they say about buying a stock when (almost) everyone  hates it?