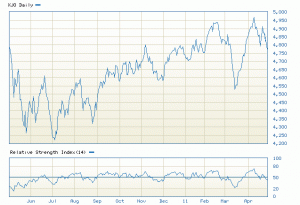 The stock market is developing a bearish character. The impact of the high Australian dollar is being felt on earnings prospects and the weakening housing market is entrenching the two speed economy. Defensive strategies are being dusted off. But given that the options are not especially attractive elsewhere, one possible defensive strategy is to do the counter intuitive. Invest in companies with high growth prospects. Attack as the best form of defence, as it were. A note by UBS gives a possible guide to that. It looks at what stocks provide growth at a reasonable price (GARP). It is worth cross referencing it with portfolios, especially as it does not just concentrate on the obvious, big stocks.
While high-flying resource plays and low-flying industrial-turnaround plays seem to abound in the Australian market, this note looks at a middle ground of companies that have a track record of delivering above-market earnings growth across the business cycle with the potential to continue delivering.

Who Has Delivered Growth Historically?

We used the ASX200 as our universe. We excluded commodity producers given the sensitivity of the earnings growth assumption to commodity prices though we did include resource services companies given their reliance on commodity volumes more so than price.

Based on historical EPS growth performance we find 22 stocks that can lay claim to a track record of exceptional (and consistent) growth over the medium to longer term (we defined this as better than 9% per annum growth on a 3 to 5 year basis to June 2011). Our sample boasts an average ROE of 32%. The list contains a mix of both domestically focused stocks and global growers (currency exposed).

Who Is Expected To Grow Strongly From Here?

We find a much larger group of companies forecast to grow at 9% per annum or better over the next 3 years. Indeed, excluding the resource sector, we find 70 industrial stocks (from an All Industrials universe of 134 stocks) are forecast to growth at 9% per annum or better over the next 3 years.

While there may indeed be some undervalued names in this list of 70 companies, we leave a detailed examination of this list for a forthcoming research note on turnarounds.

For this note we used reasonably strict criteria to add stocks to our existing GARP candidates – namely that stocks need to have at least started to show evidence of their growth credentials in terms of current fiscal year growth rates, preferably with the backing of a high ROE, while earnings should not have a track record of being overly volatile.

On this basis we added the following stocks to our starting list; QR National, Asciano, Crown, IOOF Holdings, AMP, Wesfarmers, Orica and Brambles.

Stocks that dropped off our GARP list (based on subdued UBS and consensus growth forecasts) were Coca Cola Amatil and Challenger Financial Services Group.

This leaves us with 28 GARP candidates among the ASX200 All Industrials.

Where Is The GARP? Who Looks Cheapest On Price-For-Growth?

We ranked our GARP list according to valuation attractiveness (price for growth). This simple screen highlights 8 stocks where forecast 3-year EPS growth appears conservatively priced. This is determined on the basis that the P/E multiple of the stock moves to a discount to the Industrials (ex-financials) by 2014.

In pricing these stocks relatively conservatively the market may be less confident in the ability of these stocks to keep generating strong growth. However, if they meet earnings expectations they are likely to outperform given their relatively modest valuations. This group generally tends to have more moderate near-term P/Es relative to other stocks in our sample. However, we note that Asciano and Resmed look expensive on near-term P/Es but have high earnings growth forecasts.

Most Attractive 3 Year GARP: Fleetwood, AMP, Flight Centre, JB Hi-Fi, IOOF Holdings, Asciano, Orica, Resmed and Navitas.

A middle group of companies still appear to command a growth premium beyond 2014 but it is relatively moderate. The most conservatively priced in this group (based on our 3 year GARP screen) are Woolworths, Orica, Mermaid Marine, UGL, Ramsay Health Care, SMS Management and Crown.

The final group of growth stocks are trading on significant premiums beyond 2014. This notionally expensive group either have to surprise current expectations or keep growing above-market well beyond our 3 year window.

Most Expensive Growth: Cochlear, Wotif.Com Holdings, Carsales.com.au, QR National and Iress Market Technologies

Note we have excluded Origin Energy from this "expensive growth" list due to its APLNG assets not producing any income within our 3 year window.
It is always necessary to remember that shares are not just a vote on a company's future, like those numbers diving judges hold up to rate diver's triple backward inward pike.  They are valuations of the future that are either more or less right. A company may have a great growth story, but be overvalued, so even be a sell (Qube Logistics is a case in point; it looks good but some brokers have sells because the hype is getting a little intense). The UBS list is a reasonable starting point to find valuation opportunities, although those with foreign earnings, such as Resmed, should be viewed sceptically. With consumer sentiment weakening, JB Hi Fi might also be a bit risky.