See the latest Australian dollar analysis here:
This is how I reckon the currency guys might take the RBA's no move announcement. It may be different to my fellow bloggers or the economists but then again currencies are traded by different people.
The release of the RBA's Board Meeting Communique had something in it for every one:
A nod to the mining sector on the one hand and household weakness on the other.
As dovish on employment as I thought but probably more so than the market expected.
Business Credit still relatively constrained
AUD is doing some of the heavy lifting of monetary policy – regardless of what Adam Carr says.
Inflation has probably bottomed but not a worry yet…need to see this quarters numbers in July to make August "LIVE"
Growth to be at or around trend
So rates on hold but a bias to tighten still. So to the chart: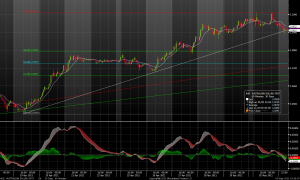 This is the hourly to round out yesterday's piece. We see that the AUD rejected out 1.1014 level for two hours last night and is braking below the hourly uptrend. My guess would be a move to the 38.2% retracement of this move – 1.0794 as a first look at support.
 
We'll see how it goes there.