A day after the most hawkish RBA Minutes that anyone can remember, Westpac's Consumer Confidence is only going the other way: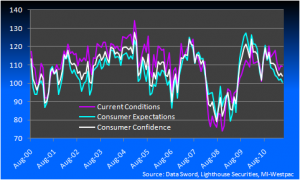 The fall for May was moderate but it's now a major downtrend. Not to mention the expectations component, which is falling off a cliff.  Can the RBA really be thinking of hiking in this environment? The answer is clearly yes because as they said yesterday "monetary policy had to be set for the needs of the overall economy".
 
The question is how can the 60% of the economy that is consumption not count as highly as the 6% that is mining? 
And if that's not bad enough the outlook for family finances is headed rapidly for GFC levels: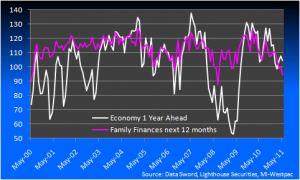 Finally, when we look at the answer to the family finances question versus the price of petrol we see why the debate today is about exempting petrol from the carbon tax: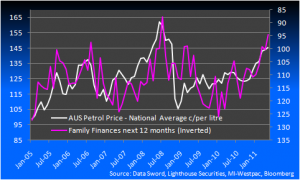 It is not a good picture for the economy going forward, for retail sales or for employment. The RBA should hold fire.