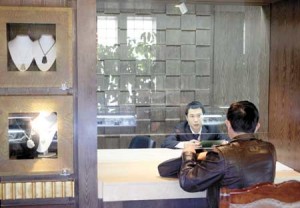 The People's Bank of China has raised interest rates and reserve requirement ratios a number of times since last year as the government pledged to make inflation fighting and property price curbing their top priority.  So far, the two main objectives have not been achieved.  However, the effect of tightening has been increasingly visible.
For instance, tightening means that potential home buyers are now finding it difficult to obtain mortgages to buy real estate according to the WSJ.  As the government implemented buying restrictions in various cities, demand for real estate has declined sharply, leading to a decline in transaction volumes in various cities. Prices have held up so far.
But it is not clear for how long.  Since early last year, major developers have raised more than US$11 billion in Hong Kong through the debt market, most of them with coupon rates above 10%, highlighting the high demand for credits and the increasingly tight credit conditions in China.  Real estate developers in China have seen their  profits drop and debt levels increase in the first quarter of this year, and they now have about RMB1 trillion debts in on balance sheets, while inventories are shooting up as sales have slowed according to various sources.
Local governments may also run into some financial difficulties as the real estate market cools.  Local governments are very dependent on land sales and other property-related income as their revenue sources, thus a quiet real estate market will hurt many local governments.  Indeed, the city of Haikou has already announced that they will suspend the buying restrictions for real estate because the government's revenue fell, according to EEO.
As banks restrain lending, the only companies which can still obtain credit are state-owned enterprises.  As a result, other businesses, particularly small and medium sized companies, are having difficulties in obtaining credit at all.  To cope with their financial difficulties, we have started to hear stories of  borrowing from loan sharks which charge horrendous interest rates according to various sources. Pawnshop businesses like Credit China (8207.HK) are booming.
As the objectives of slowing inflation and curbing home prices have not been achieved despite the tightening of credit and signs of a slight slowdown of the economy, any easing of policy is not likely in the near-term.  The consensus remains that the most likely outcome will be a soft-landing, in which growth is sustained at a relatively strong level while inflation and home prices fall.  Yet the recent developments confirms my long-held view that the economy needs to be slowed down significantly in order to achieve the stated objectives.  It appears to me, therefore, that the probability of a so-called hard-landing is still being under-estimated by global markets.