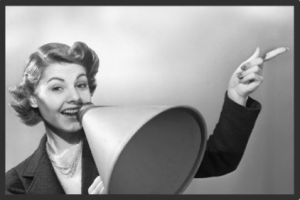 It seems the ah…fans…of housing are getting nervous. I'm not sure if there has been recent guild meeting but last week saw a number of bullish property pieces. It's worth assessing their merits.
In the latest Eureka Report, Monique Sasson Wakelin penned an attack on the "bubble brigade". In it she argued the real question facing housing is when will growth resume. To support this contention she offered the following analysis:
The four surveys more or less measure the same parameter over the same timeframe; averaging their results gives a pretty good guide to the state of the market.

You can see from the table that at a national level property prices have eased back around 1.2% in the last quarter. And over the past 12 months prices have risen 0.6%.

The real story behind these numbers is the resilience of the Australian property market in the face of global and national adversity, be it economic, environmental or natural disasters.

After peaking around May 2010, prices have clung to nearly all their recent capital growth despite several interest rate rises, the removal of the national First-Home Owner's Boost, rising petrol prices, an increase in the consumer savings ratio and much scare-mongering by the "bubble brigade".
If you'll pardon the expression, this is statistical butchery. RPData's index is hedonic, created in an attempt to adjust for compositional change across real estate sales. You can't average it against APM and Residex median house price data. The comparison is made worse by the fact that Ms Wakelin is comparing national prices against a capitial city index and claims that they all "more or less measure the same thing".
Ironically Cameron Kusher from RPData is mentioned in the article.
"The market has slowed down. Values are holding up better in Sydney and Melbourne, with Brisbane, Perth and Canberra doing less well. There are a lot of listings and the stock is taking longer to shift. There aren't many first-home buyers or investors out there, which is making it hard for aspiring upgraders to sell their current property. Rental yields have started to improve across Australia's capital cities – outside of Melbourne. Over time that may attract some investors back to the market."

Kusher is relatively sanguine about the prospects for the market. "While the market has definitely softened, with fewer transactions and lower activity, I expect these falls will be relatively contained, largely because I don't see which factors not already in play would cause people to sell for significantly less than today's prices.

"Unemployment is low, the economy is doing reasonably well – and very well relative to the rest of the world. If people can't sell at today's prices, most will just take their property off the market and try again at some other time."
Is it just me, or is it odd that Ms Wakelin takes Mr Kusher's opinion at face value in the same article that she distorts his company's index. She continues:
Importantly, this is exactly what property commentators such as myself said would happen at the start of the year (see Property's Year of Affordability). Rather than focusing on capital falls, the crucial question for investors is how long property prices will remain in this holding pattern before capital growth resumes.

… And, just quietly, provided my cat Isabella does not cost me a small fortune with her extravagant culinary preferences, this is the year I'll be adding to my own portfolio too.
I have a cat, I could coat him in a thin layer of platinum and I would still be burning less money than I would be if I was to buy a house in the current market.
House prices haven't "clung" to anything. This is a misleading "point in time" view of data. Property data only makes sense in terms of trend. Housing is not a liquid asset, it takes months to sell and settle. Changes in market dynamics do not occur overnight.
Ms Wakelin maybe able to talk down "small" changes in property values, but if I had purchased the "average national house" over the Christmas period I would have been approximately $10,000 worse off by the end of March according to Mr Kusher's company. That is over $3000 per month. That is some expensive cat.
You can see from the charts of Mr Kusher's company that in March 2010 the YoY growth for capital cities was 14%, 6 months ago it was 8% it is now -0.6%. This is a 'holding pattern' only in as much as a crashed aircraft is one. Moreover, as we know, property investment is a capital growth play. The income returns are poor, and non-existent for the negatively geared, which constitutes 66% of all investment property. Such markets do not find 'holding patterns'. They are either rising and investors are making money or they are falling because when flat most investors are losing money.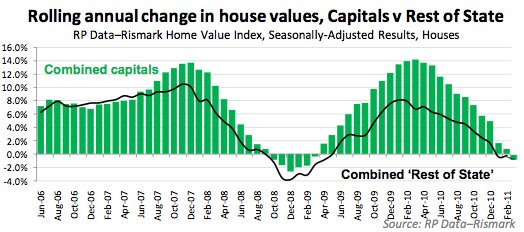 Surely the question for any person who is seeking advice on housing investment is not what has already happened anyway, it is what is going to happen. And to answer that you must understand the trends and the fundamentals of the market. Credit trends, population, demographics, inflation and commodities boom, the RBA and government policy are all major contributors to the housing market. This article mentions none of them. At least Mr Kusher bothered to mention unemployment even if it is a trailing indicator.
But to Ms Wakelin's credit, her 'analysis' was still reserved in comparison to  Terry Ryder's major work of fiction on the subject of  negative gearing published in The Australian.
[The] pattern of rising home values is a good thing for most Australians, because about 70 per cent of households own their homes. It's also good for the nation because the value of the family home is the financial imperative by which many Australians fund their retirement. Those who think it's a bad thing are an insignificant minority. But these people appear determined to allocate blame for rising real estate values and to find ways to reverse the laws of real estate physics.

Some of them blame the federal government for inciting first-home buyers into action with its grant (they tend to overlook state governments that also give handouts to first-time buyers, as well as stamp duty concessions). Others blame state governments for restricting land supply (this is a furphy). A few have accused foreign investors who apparently are swarming across the nation forcing up our property prices (that's not happening either, but a good headline has never been stopped by boring facts).

Some have even blamed me. The local Greens candidate harangued me in my home town after seeing my website signage on the side of my car. I'd love to think I have so much influence as to cause national prices to rise.

But the perennial favourite is property investors. According to this theory, marauding investors are paying inflated prices for houses in great numbers. And, so the theory goes, the main catalyst for this un-Australian activity is the tax incentives provided by negative gearing. So if you stop negative gearing, you stop investors. Nobbling investors will force property prices to fall, the affordability issue will be solved and we'll all live happily ever after in really cheap houses.

The time wasters who called for a first-home buyers' boycott are among those who subscribe to this theory. Media reports suggest some federal politicians are considering axing negative gearing to improve affordability. But it won't, of course.

People who own investment properties comprise just 13 per cent of taxpayers and only some of them are negatively geared. Investors who are negatively geared form a tiny percentage of the overall market and are much too few in number to influence prices.

They're also the last people likely to get emotional about a piece of real estate and pay an inflated price. Investors buy by the numbers — if they can't get a property at the right price, they move on to the next option.

If investors really were the catalyst for rising values, Surfers Paradise would lead the nation for price growth. Forty per cent of properties are owned by investors, well above average. But the median price for Surfers Paradise apartments is lower today than it was five years ago. It's the same in Noosa Heads, where the median unit price is 16 per cent lower than five years ago, despite the strong presence of investors there.

… The only outcome of stopping negative gearing will be to create a shortage of rental properties, which will force up rents and make it harder to first-home wannabes to save a deposit — that's what happened the last time it was scrapped.
At this point I'll offer the following graph from the Unconventional Economist to show how distorted many of these claims are: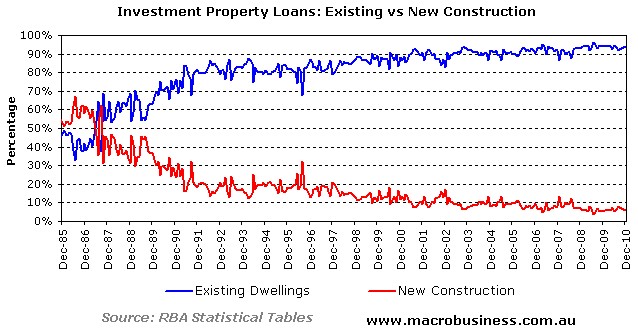 Yep, 94% of property investment goes into existing dwellings. Yet, magically that hasn't boosted prices, wouldn't change prices if removed, and is worth the trade off of a paltry 6% going into new homes?
The remainder of the article is filled with similar errors that it is not worth my time offering more detailed analysis. All I will say is that if you find yourself agreeing with anything in it then you need to read this piece from the Unconventional Economist to learn the truth.
You have to ask yourself why it is that these self-proclaimed experts can make these analytically dubious claims over and again. Where is the regulation and licensing that governs other forms of investment? Why is there no AFSL or equivalent for these people? Where is ASIC?