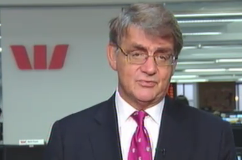 Back on the 31st of March Bill Evans from Westpac presented a talk to the Real Estate Institute of Queensland(REIQ).  However I am unsure whether anyone liked what he actually said, because the only reference I can find to the presentation's contents is on some obscure websites such as this one.
As the Reserve Bank of Australia (RBA) remains focused on the mining boom, Westpac Bank's chief economist Bill Evans says only drastic job losses would stop interest rate 'pain' this year.

Speaking at a Real Estate Institute of Queensland (REIQ) event today, Evans highlighted a cautious consumer market, 'pessimistic' public outlook on the economy and restrained spending as keeping inflation under control.

However with a low unemployment rate and the resources sector continuing to boom, he says the RBA is certain to hike rates in the second half of this year.

"If those inflation numbers remain under control, then it's going to be really hard for the Reserve Bank to raise rates (but) the other thing we look for on rates is the labour market, and that's where the problem is," says Evans, Westpac's managing director and global head of economics and research.
A few days later he repeated the "cautious consumer" theme in his weekend economist piece on Business Spectator.
Our thinking was very much based around our observations of the cautious consumer. We never denied the sustainability of the mining boom and the strains it would impose on capacity but we saw consistently soft consumer spending and its associated impact on the housing market as being likely to ease the pressure on capacity by enough to allow the mining boom to proceed without the need for drastically higher interest rates.
However the "cautious consumer" story does not seem to be the only thing Bill talked about at this event. It looks as though he also made some fairly interesting statements about his expectations for the Queensland property market and what prospective buyers in that market should be doing about it. Being a Real Estate Institute event I appreciate that this particular message probably wasn't supposed to make it to the outside world.
But it seems someone forgot to tell the Quest News, because they printed this story in the "Property Pulse" section of the Quest local new papers on the 27th April.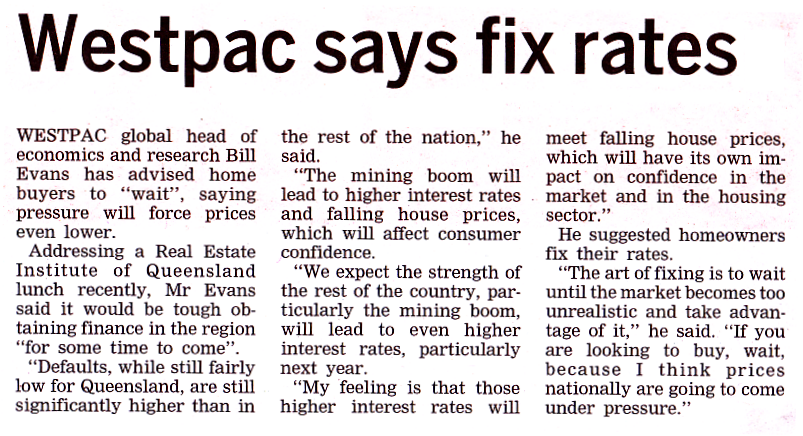 Now that is interesting.