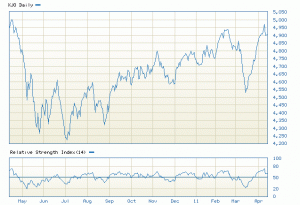 The high currency is not weighing too much on the share market if a Deutsche Bank report is right. It is one of the contradictions of the market's "animal spirits". In theory, a high $A should deter foreigners because of the possibility that a sharp fall will reduce the value of returns in the foreign currency. But because Australia is a proxy China play – in the almost complete absence of any ways for investors to make direct China plays — it is not that simple. Foreign institutions making global allocations will see Australian resource stocks as one of the few ways of investing directly in China's economic growth, which, even on the more bearish scenarios, looks likely to exceed the economic growth of the developed economies. That is distorting Australia's currency and economy, but it is not leading to a shortage of capital.
 
The Deutsche report shows that foreigners are returning:
The key finding is that that foreign inflows have picked up since mid-2010, after 3 quarters of net selling. This may come as a surprise, for a couple of reasons: (1) inflows came despite the strong AUD, which suggests that foreign investors had confidence it could remain at high levels; (2) more interestingly, the Australian market underperformed global peers while foreign investors were net sellers in late 2009 and 1H10, yet their return did not prevent a continuation of underperformance.

Foreign investors returned to the Australian market in late 2010, yet underperformance continued. This suggests that fundamentals, rather than flows, are the key impediment – Australia has had a downgrade cycle over the past year, while other regions have had upgrades. We see better times ahead. Improved momentum in capex activity & consumer spend will benefit industrials, while high commodity prices support resource earnings growth.
Deutsche's argument is that earnings and valuations matter more than flows, which is a safe enough conclusion. A much more brave conclusion is that the fundamentals in the market are on the improve:
We see solid earnings growth moving into FY12, which should take the market higher. The downgrades of the past year have been concentrated in industrials, but we are optimistic that conditions are improving. The long-awaited pick-up in capex work (both resources & infrastructure) appears to have begun, and the pipeline of work is at record levels. Also, consumer sentiment towards spending has risen over the past year, and retail sales are picking up. While the strong AUD presents downside risks, it may limit the need for RBA tightening. In other areas of the market, resilient commodity prices are supporting resource earnings growth, while banks are seeing solid margins and continued bad-debt roll-off.
Consumer sentiment is improving? The evidence of "disleveraging" (to use my co-blogger's awful term) and the growing signs of weakness in the housing market – the fantasy on which positive consumer sentiment depends – suggest otherwise. There is more capex in resources, but infrastructure spending partially depends on government investment, and the Federal government is hell bent on running to surpluses. State governments are broke as usual.
Still, the conclusion is that Australia, now pretty much a province of China, will continue to be swept along by China's economic fate. The same goes for the share market.
Deutsche