See the latest Australian dollar analysis here:
As readers know the USD, as the other side of the AUD/USD coin, is one of my 5 key drivers of the Aussie as I have discussed before. So where it's going and what it's doing is a key to divining the future of the Australia dollar. 
Since the mid-1990's, starting with Robert Rubin, US Treasury Secretaries have from time to time felt the need to reiterate the so-called strong dollar policy. The current US Treasury Secretary, Tim Geithner, reiterated this in a discussion  at the Council on Foreign Relations in New York on Tuesday night our time. Bloomberg quotes Geithner as saying:
Our policy has been and will always be, as long as at least I'm in this job, that a strong dollar is in our interest as a country,…We will never embrace a strategy of trying to weaken our currency to try to gain economic advantage.
But as the chart (from Bloomberg) below shows there is little recent evidence that this is the case: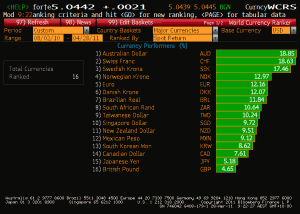 You're probably asking how relevant the last 5 cycles are compared to this one, which is all about the end to the debt super cycle,  and you could probably argue not overly. But if the GFC has taught us anything it is that the most dangerous words in the English Language are "this time its different". 
So the balance of probabilities are that the USD may find support soon around 3-4% lower than where it is now which translates in an AUD around 1.1175 to 1.1284. Please note this is not a forecast, and I am hearing that real money buyers are finally starting to say enough is enough, at least for the time being. However even though I am uncomfortable writing this next sentence (and I could be ringing the bell for the top) unless something changes fundamentally for the USD, the Aussie's strength looks like it might persist stronger and for longer than many think.