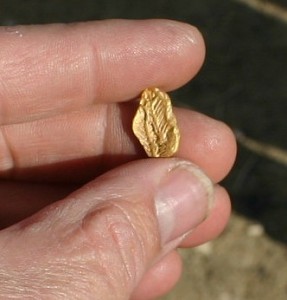 Analysts' resources and attention mostly goes on the top 50 stocks, because they are liquid, institutions like them because they can defend their decisions, and brokers can sell their research more easily. It leads to an unhealthy relationship between the fund managers overseeing super funds and the big cartels. Cosy, comfortable, often compromised. For investors it means there are unlikely to be any operational surprises (and therefore share price jumps) at the top end. These companies are trawled over so closely, they tend not to surprise on the upside, although they occasionally manage to shock the market with something nasty that they managed to conceal for a time.
The positive surprises are more likely at the smaller end, where research is thin. When brokers do look there, it tends to be only as a sector. A Citgroup report on small caps just does that. Their conclusions are quite good for gold bugs. Consumer staples might be a bit more questionable in the light of the economic trends described by my co-bloggers:
Our bottom-up valuations of the small caps deliver an average total return of +14.5% for the year ahead. Whilst not a stellar return in the context of last year for the Small Caps, within that return we forecast strong returns from Capital Goods (+23.5%), Consumer Staples (+22.3%) and Financials Ex-REITs (+22.0%) in the Industrials. Although we view the Small Resources as relatively expensive from a top down point of view, we do see pockets of value. Gold (+37.5%) in particular looks attractive.

Using forecast return as the benchmark, our top picks in the Industrials are QRXpharma (+52%) and for a lower risk play we like Southern Cross Media (+52%). In the Resources we prefer OceanaGold (+89%).
Citi also likes Premier, Alesco, Programmed Maintenance, Navitas, Medusa, Resource Generation, Gindalbie and Grange Resources. Which suggests that at least they might get more attention.
 
A level fo scepticism shoudl be applied, however. Nothing beats doing individual research. The big brokers use big broker methodology, which tends to rely heavily on projections from historical data. Good small cap buys break out of their past performance trends.