Ben Bernanke fronted the press following the FOMC meeting earlier this week and told us that QE2 would proeceed as planned and once completed the Fed would "continue to reinvest maturing securities, both Treasuries and MBS, so that the amount that we hold will remain" meaning that "the amount of monetary policy easing should remain constant going forward from June". 
On when a withdrawal of stimulus would be appropriate, Bernanke said "it's not clear that we can get substantial improvements in payrolls without some additional inflation risk" and "if inflation persists or if inflation expectations begin to move, then there's no substitute for action" and "we would have to respond". 
Looking at the first chart it is clear that the inflation in the US accelerating. The annual rate is on the rise off a low base as a series of benign months are being replaced with stronger price months: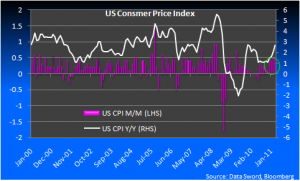 While  Bernanke only sees this acceleration as transitory, it  will prove increasingly difficult for the Fed to keep policy setting highly accommodative without dislodging the anchor of inflation expectations with the annual rate likely to continue to rise over the coming months. Over the next three months weak readings from April (0%), May (-0.1%) and June (-0.2%) drop out of the calculation and if replaced with an average rate taken from the past 4 months will see the annual rate climb to 4.2% just as QE2 is coming to an end. It would be interesting to see the justification from the Fed to embark in QE3 with inflation above 4%: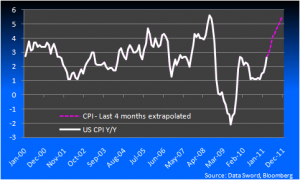 However it the average rate from the past 4 months continues for the remainder of 2011, inflation will reach 5.5%, just short of its July 2008 peak of 5.6%, making it even harder to justify further easing of policy setting as growth remains weak. Last night's GDP release confirms the slowdown in the US economy. The latest slowdown has been attributed to the biggest drop in government spending since 1983 as the stimulus measures are unwound and consumer spending remains low: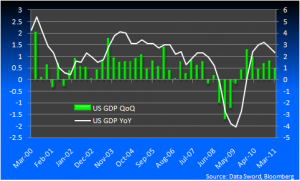 With austerity now on the Administration's agenda and inflation on the rise as growth is slowing, the US is confronting the return of that seventies show: stagflation.