For some time now, there has been bipartisan support for a 5% reduction in emissions from 2000 levels, and Australia has committed this abatement effort under the Cancun agreement. Although it may sound small, a 5% reduction actually represents a very substantial abatement effort. In absence of mitigation policy, emissions under a "business as usual" scenario would increase by over 20% to 2020; this is because the business as usual scenario sees us continue to power our industry and households predominantly by emission-intensive coal-fired power. So the target requires 160 million tonnes (MT) of abatement, from 690MT down to 530MT, a cut of a quarter of the nation's emissions.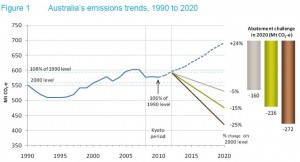 If the abatement task is taken as a given, attention must then turn to the means of achieving this objective. Generally speaking, the policy options fall into two groups, market-based (or price-based) mechanisms, and regulatory controls. The Shergold Report, commissioned by and delivered to the then Prime Minister in 2007, noted that:
Financing subsidies and specific project-based interventions also impose costs on society from their use of taxation. If these approaches were to be used extensively to achieve large-scale abatement, the economy would suffer losses in economic and administrative efficiency. In contrast, market-based approaches to emissions abatement involve the explicit pricing of emissions, allowing the market to determine the cheapest source of emissions reduction.
I thought it would be useful to revisit this concept and illustrate it with some examples. A variety of suggestions have been made on how such an abatement target can be made. Two suggestions doing the rounds are putting solar panels on every Australian roof, and shutting down the Latrobe Valley brown-coal generators. So we will examine the cost of these and the resulting abatement.
Firstly to solar, if we put 1.5kW of panels on 10million homes, it will cost around $8,000 per home or $80billion in total. On average, each of these panels would produce about 2 megawatt hours of energy each year, and displace roughly 2 tonnes of emissions each year. The cost of this initiative, including financing cost, would be around $8billion per year, resulting in emissions savings at $400 per tonne of abatement. This is extremely high cost of abatement when compared with a carbon price to achieve a 5% target of around $20-30/tCO2e, according to Treasury and Garnaut Review (2008) modelling.
Secondly, to shutting down the brown coal-fired generators. Bearing in mind that this installed capacity is critical to the security of energy supply across the National Electricity Market, this scenario can only be considered in the context of building replacement capacity at the same time. Therefore, the scenario being considered is replacing 6,000MW of coal-fired generation with equivalent baseload, but low emission, power. Nuclear remains the only baseload low emission option currently available, but it is more expensive, with new nuclear plants costing around $3-5 million per MW. In addition, the payments to "stranded" coal-fired power to have them shut down could be around $1.8-2.2million per MW. In total, this exercise would cost around $30-40billion and save about 60 million tonnes per annum, so a resulting cost of $50-90 per tonne. Again, this is much higher cost than predicted under a carbon price and it also only results in just over a third of the required abatement. In addition, electricity prices would need to rise in order to fund the higher cost of nuclear power relative to coal-fired power.
I would contend that neither of these two abatement options are cost-effective uses of taxpayers' money. This scenario analysis serves to demonstrate the inefficiency of determining a priori the best way of meeting the abatement challenge. When the abatement challenge is left to the innovation of all players in the economy, it is likely to result in meeting the abatement challenge at least cost.
This should not come as a revelation. Quoting again from The Shergold Report:
Market-based approaches have the potential to deliver least-cost abatement by providing incentives for firms to reduce emissions where this is cheapest, while allowing the continuation of emissions where they are most costly to reduce.