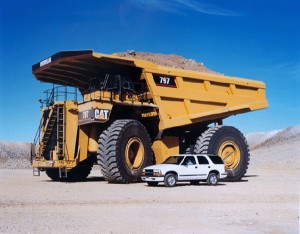 With the Australian dollar seemingly headed for even greater heights, at least in the short term, and consumers still in the doldrums as interest rates remain tight to contain the big flows of foreign capital into mining, analysts  are waking up to a deepening of the two speed economy, which may become entrenched in the Australian economy, creating a generational fissure in the industry base. That means preparing portfolios for a two speed world.
One side of the trend is the squeeze on margins. A Macquarie report advises that stocks like Qantas, Boral, Bluescope, Ten, Seek, Telstra, Crown, and others are likely to come under margin pressure:

Operating conditions, outside of resources, remain challenging. The AUD continues its rise, consumers remain hesitant, non-discretionary costs (power, water & health) are all rising with further risk to the upside, while interest rates are unlikely to be cut given the resources boom. Critically, productivity growth is near zero. This suggests little chance of improvement, indeed the current tough operating conditions are likely to continue over at least the next year.

Given the reliance of many stocks' FY12 EPSg forecasts on EBITDA margin expansion, any disappointment will likely result in EPSg struggling to exceed the high single digits, rather than the +18.5% currently forecast. Furthermore, many stock prices are trading on elevated forward PER multiples in anticipation of this forecast earnings improvement.
The other side of the skewing of the economy by the mining boom is the effect of the high $A on earnings (in the local currency). CSL and Resmed, because of their high foreign earnings, are obviously going to require some attention. Goldman Sachs has a list of the stocks likely to be affected. The airlines actually will get a positive boost, partly offsetting their margin problems:
•         The stocks that are most sensitive to the AUD from an earnings perspective and have the potential for FY12 EPS to be downgraded should the AUD trade above our forecasts are: BSL, OST, IPL, ALL, CTX, IFN, CSR, SHV and PPX.

•           Stocks that we expect to benefit from a stronger AUD and believe have the potential for FY12 EPS to be upgraded are: QAN, VBA, PBG, BLD and CCL.

•           Key sectors and stocks which are potentially at risk from a structural perspective (increasing import competition; reduced exports) are: Steel (BSL, OST, SGM), Wine (FGL), Manufacturers/Suppliers (ORI, AMC, ABC, BKN), Agriculture (IPL, NUF, GNC).
Much of this $A effect will already be priced in. Still, it is hard to see how the market will avoid contracting Dutch Disease. Of the two trends, the margin squeeze is probably the more certain. The $A is potentially very volatile and could fall sharply; it is trading well over the TWI. That is the nature of the absurd world of currency trading. But the margin squeeze is less likely to be reversed, especially if there is a sharp housing correction and households start feeling even poorer.
Macquarie