Real estate agent watching is becoming a bit of a sport in Queensland. As the market turns the level of desperation is slowly rising. I get quite a few e-mails from readers informing me of their local agents antics. It may surprise you just how much your local agent knows about macroeconomics, microeconomics, forex markets, gold prices, equities and/or chinese astrology and is willing to impart this wisdom on you just so you are aware the housing market can never fall in value.
I usually don't bother posting about these anymore, there are plenty of other sites around where people discuss this sort of thing. But once in a while one comes along that is so amusing I just have to share it.
Here is the first section of a real estate newsletter from a reader from an area in South Brisbane.

NEWSLETTER FOR SATURDAY APRIL 9TH 2011

Hello Everyone

Continuing on last weeks subject of confusing data in the Real Estate World and how it may affect you, this week I would like to comment on current media reports that the market is falling and we are overdue for a major price correction.

The first point to establish is just what exactly is the "market".

Don't forget that that the Australian real estate market actually comprises many different markets. The media uses national figures to get an idea of what's happening nationally, but remember, if you are in Carindale or Wakerley, and you are buying or selling, then you must consider only what is happening in your local market, because that is all that is relevant to your situation.

In Brisbane for example some suburbs (such as those recently flood affected) are particularly slow at the present whilst other suburbs (such as Carindale and Wakerley) are in high demand and prices are holding well.

Platinum Private is happy to report that in both Carindale and Wakerley, buyers far outweigh sellers, attendance at Open Homes is above average, and sales are being made regularly.

More confusion exists when a prospective buyer sees a property advertised for sale at a certain price say $1,200,000 and within a few weeks sees the same property sold at a much lower figure – say $840,000. Again this situation does not necessarily mean the market is falling. This type of repricing can occur when an inexperienced agent overvalues the property to begin with, or when an out of area agent "Buys" the listing by intentionally overvaluing the property. In both cases a complete lack of interest by prospective buyers forces the property to fall in price back to its correct market price.

One important fact that a property investor should never lose sight of is that property investment is a proven long term investment – residential property values have risen across Queensland by over 10% per year over the last 10 years.

If you keep putting off buying because you read in the media "the market is about to fall" – the danger is you will end up NOT buying – and as the figures in the previous paragraph prove – that could be a very expensive mistake in the longer term.

FEATURE PROPERTY OF THE WEEK

5 Chelsea Court, Carindale $795,000+
Now just keep that bold text in mind as you read the original listing price  for the feature property of the week.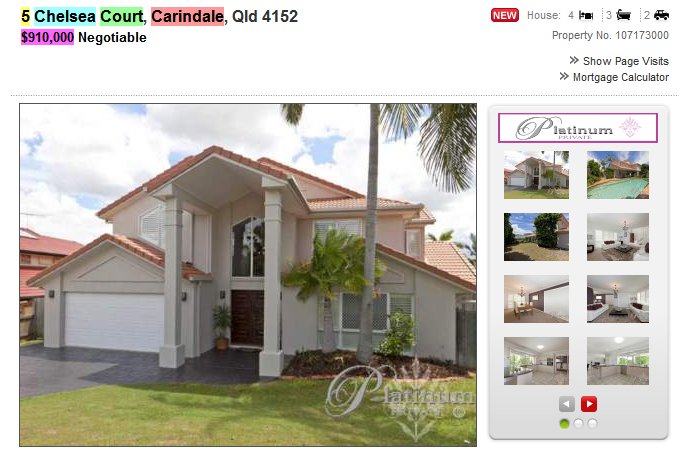 Luckily Admiral swan is providing even more tax payer support to this industry because they really aren't doing themselves any favours.