This shouldn't be a surprise to any daily MacroBusiness readers, but here it is.
Capital city home prices continued their downward slide in March, posting their worst slump in at least 12 years as the property market showed more signs of sagging demand. Brisbane and Perth fell the most.

National city home values slipped 0.2 per cent, seasonally adjusted, in March, following a flat February, according to property research group RP Data-Rismark. The decline brought the national city median dwelling price to $455,000 in March.

In the March quarter alone, national city homes prices sank 2.1 per cent, the group said. That's the biggest decline since RP Data-Rismark's data series began in the June quarter of 1999.

"Basically there are more people putting their properties on the market than there are people buying them," RP Data research director Tim Lawless told BusinessDay. "Until we start to see that effective supply being absorbed, I really don't think we'll see any upward price pressures."

The pace of sales of Australian homes has slowed in 2011 even as the stock of houses on the market increases. Would-be buyers have been put off by poor affordability, higher interest rates and concerns about taking on new debt with uncertainty about the global economy lingering.

Auction clearance results, a barometer of market activity, have hovered around 60 per cent in Sydney and Melbourne in recent months, well down from the 80 per cent levels seen last year.

The average time on market for a property was 59 days in March, compared with 45 days in March 2010, RP Data said. The average discount on a property has risen as well, hitting 6.5 per cent in March, up from 5.2 per cent in March 2010.

The discount figure had been as low as 4.7 per cent in October 2009, after the Reserve Bank slashed interest rates to 49-year lows and the first home buyers rushed in to the market with help of government stimulus.

Other recent reports point to weakness in the real estate market. Property data firm SQM Research earlier this month said the stock of houses and units on the market has increased, rising 45.5 per cent in the year to March to 356,600 properties nationwide.

This week, real estate information group Australian Property Monitors said the national median house price had slumped 0.6 per cent to $550,946 in the March quarter, while national unit prices sank 1.2 per cent to $406,279. Fairfax Media-owned APM said Sydney home prices fell 0.4 per cent in the quarter, while Melbourne's were flat.

Units in Sydney fell 0.7 per cent in the first three months of the year, while Melbourne's turned down 1.4 per cent, Fairfax-owned APM said.

Brisbane, Perth drop

Over the March quarter in seasonally adjusted terms, all capital city median home prices fell, led by Brisbane which saw prices drop 4.6 per cent, followed by Perth, which posted a 3.4 per cent decline, RP Data showed.

Melbourne home prices fell 1.5 per cent, while Sydney's eased 1.1 per cent in the three month period.

"Unsurprisingly, the flooding that has occurred within South East Queensland has likely compounded Brisbane's weak market conditions," said Mr Lawless.

Among other cities, Canberra prices fell 1.3 per cent, Hobart 1.4 per cent, Adelaide 1.6 per cent and Darwin 2.5 per cent.
I will leave you all to analyse those words yourselves, you can probably imagine what I think of most of them.
I can only repeat myself. There is no driver for increased rates of credit issuance in housing and the appearance of articles such as this in the mainstream media will just make that worse. Demographics and the economics of the boomers is against the housing market for many years ahead. As I have been saying for months and months, and repeated again last month the "soft landing" rhetoric is wishful thinking by vested interests and not based on any economic fundamentals. I see no reason why this slide in values will not continue for some time yet, and my predictions have been correct so far.  However, for the sake of the newly indebted in Brisbane and Perth I hope the rate of decline slows somewhat because that is 18.4% and 13.6% annualised respectively.
The chart I posted last month (below)  is now in negative, and I see no reason why that downward trend will stop. It is 2008 all over again and the only reason there was a bounce in the market then was the due to the super-stimulatory environment created by the government. I see no reason why a government preparing an austerity Budget or an RBA trying to manage a resources boom and bubbling inflation are about to repeat that action, so hang on to your hats.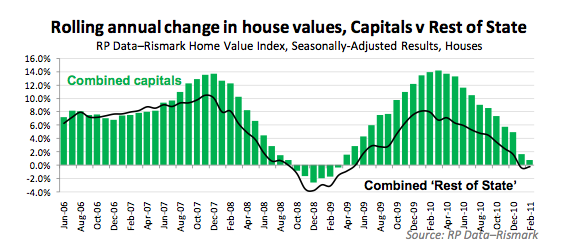 For those who follow such things the RPData Index now looks like this for the capital cities.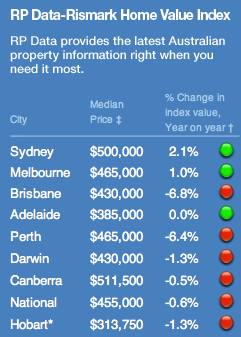 And for a historic perspective here is the changing face of it over last year.