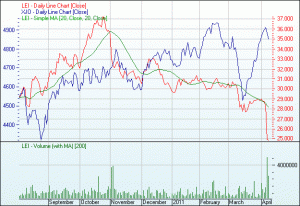 Leighton's debacle has been well analysed  on MacroBusiness. It appears to be a problem of poor incentive structures, which had been changed. Bonuses were paid for winning tenders, not on whether they would be profitable. Different divisions of the company bid against each other. The result was like paying fund managers for assets under management, not returns. The CEO Stewart said: "We will be enhancing our focus on tender accuracy and risk identification, adequate pricing of risk, adequate time allowances, project delivery and risk management and client co-operation and issues that could impact project performance." The question is: why did all this suddenly deteriorate? It was surely due to changes in governance, which is just as surely the board's fault. So is the stock a buy? Macquarie thinks so. It has added the stock to its conviction list.
We add Leighton Holdings (LEI, Underperform, TP: $26.71, TSR: -3.0%). LEI announced $907m of post writedowns on Airportlink, Victorian desalination projects (VDP) and its Middle Eastern investment, Al Habtoor. LEI also announced a $757m capital raising at $22.50ps. We note the raising doesn't improve the balance sheet with the $757m raising only offsetting $779m in FY12 cash outflows related to Airportlink, VDP. Asset sales are required to reduce gearing.
Leighton's competitive advantage, which saw it rise to being a global player, was derived from its operational and management characteristics. Construction is a knowledge intensive business (despite the large capital costs involved), and the company exhibited an ability to foster knowledge and apply it with some management skill. Then it suddenly evaporated. The company is yet to answer why. Simply asserting that it will do better is not enough. When assessing the stock, this Royal Bank of Scotland comment is worth considering:
A value trap is a stock that's been beaten down in price to the point where it starts looking like a bargain, only to become even cheaper and/or remain stagnant for a long period of time. Our analysis shows that – on average – it is beneficial to wait for such a stock to first stabilise before investing.
Good advice. Leighton has to show that it still has its competitive advantage. Superior knowledge, in the main. Given the corporate plays going on, and uncertainty about the ultimate ownership, that is going to be difficult.