See the latest Australian dollar analysis here: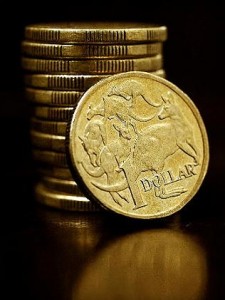 Another stellar week for the AUD, if you are a bull or long, and another new post float high and weekly close at 1.0738. The combination of a weak USD after the warning by Standard and Poors about the future of the United States AAA rating combined with solid terms of trade data and a general ebulllience in markets.
I would normally expect pre-holiday trading to be thin and after such a good run higher I would have expected a counter-trend move as traders and investors took money off the table. But that was not the case this week as many markets across the globe pushed sharply higher after a small hiccup on the S and P announcement. Earnings data out of the US also helps so-called risk assets as well, but interestingly not the USD.
There simply remains little reason at present for traders or investors to stand in the front of the market freight train and there are rumours of big buyers lurking. So with such a fundamentally strong backdrop for the Aussie sellers are scarce.
But the key here is that while the AUD is super charged against the USD a large part of this move is the USD itself and the weakness it has displayed. Remember that the USD is the other side of the currency pair and one of our 5 key drivers.
Indeed the chart below shows the trend in the USD Index which, I recognise is too heavily weighted to European currecnies, is in a deep dive. The current level of 74.108 is still 3.5 big figures or roughly 5% above the low from March 2008. At present there is little reason for the USD to find any material support above here.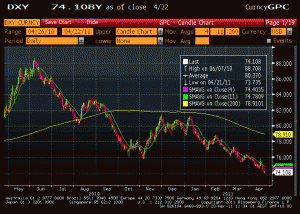 For the AUD this means that even though it looks overstretched on some technical indicators and is probably a very crowded trade the fact the USD continues to weaken, along with all the other current drivers like interest rate differentials, strongish economy, China dividend etcetera countinue to drive the buyers and the sellers are probably waiting for an excuse to sell. This excuse could be the USD if it manages to find support soon but in the meantime AUD remains well supported.