See the latest Australian dollar analysis here:
Yesterday I wrote that the Aussie was the Cinderella of the ugly sister currency contest and posed the question where in the world would you invest at the moment? This morning a Bloomberg story  highlights just this. Importantly it suggests ongoing buying support for the Aussie regardless of whether we are in a risk on, risk off or neutral market.
 
The Bloomberg article said:
Credit default swaps protecting investors in Australian debt for five years traded at 51.2 basis points on April 18, 1.7 basis points more than the 49.5 investors were paying to guard against a deterioration in U.S. creditworthiness, according to CMA prices in New York. That's the narrowest since Jan. 27. Australian default swaps may fall below those for the U.S. as the market focuses on focuses on the credit quality of sovereigns, according to BlackRock Inc.
 
"Australia is in a bit of a sweet spot compared to the rest of the world at the moment, being highly leveraged to some of the fastest-growing economies in the world, particularly China," said Stephen Miller, a managing director in Sydney at BlackRock, which oversees more than $3.5 trillion. "Australian sovereign debt rates very, very highly given public debt metrics."…
 
"To the extent that the market is now focused ondiscerning between the different credit qualities of sovereigns,I suspect that we'll see that reflected in relative CDS spreads," with Australia's possibly declining below that of the U.S., BlackRock's Miller said.
Here is a chart of Australian CDS graphed against the US and UK: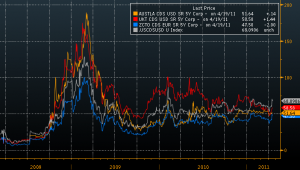 Australia (Orange), UK (Red) and US (Blue, in EUR's) with our stylised US in USD's in grey.
The important thing to note here is how the relative perceptions of risk have changed in the past two years about Australia. Before the GFC, markets were clearly mispricing risk everywhere with little divergence amongst the Anglosphere countries. Since, however, risk has played a much stronger role.
In late 2008 when markets were at their most pessimistic, of this cohort Australia was the most expensive to ensure. In other words the market was most worried about Australia. Ever since, depending on your metric, either Australia has been equal to the US and substanitially cheaper than the UK or cheaper than both. It appears another divergence in our favour maybe underway again now. 
Looking at last nights price action the AUD bounced off the support line on the hourly charts after trying to push lower from 5am London time yesterday. It's what we in the trade call "early doors" and its usually a bit of a twilight zone of thin trade between Asian trading and European trade. If the Aussie is going to get a wriggle on or if you want to see if there is any decent support or resistance this is a good time of day to do it. Anyway support held and we seem to getting wedged into a pretty tight range at the moment. I'm surprised from a technical perspective we haven't been back to 1.0249 yet but then again as I've said above there seems to be plenty of underlying support.