See the latest Australian dollar analysis here:
Not surprisingly the markets in Japan are under pressure in the aftermath of the earthquake and the massive destruction. The Nikkei is down 5.14% as I write and USD/JPY has bounced off a low for the day of 80.60, no doubt on the back of some intervention from Japanese authorities.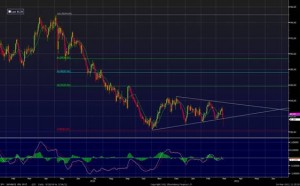 The moves in Japan and USD/JPY are vitally important for the Aussie because of the linkage through AUD/JPY and the flows through this currency back into Aussie. In the past the Yen has been a favourite funding currency into high yield or leveraged assets like the Aussie. So anything that threatens returns on these assets can pressure the AUD. It's where the risk aversion trade often emanates from when the Aussie gets smashed at times of crisis.
The chart above shows the price action in USD/JPY for the past year. The downward slope to the right represent Yen strength and USD weakness. The low late last year was just above 80 and we got down toward there again this morning.
To put this move in context we need to go all the way back to the aftermath of the Kobe Earthquake when Yen rushed home and USD/JPY fell precipitously. As the chart below shows in January 1995 the USD/JPY was above 101 but a couple of months later made a low of 79.75. This level represents the post Bretton Woods low and as such is a massively important level to the Japanese Authorities. One they will not wish to see breached and one I think they will defend, as they have today, in the current circumstances.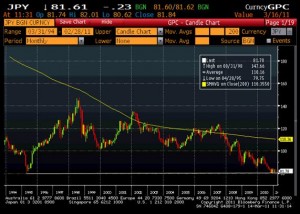 The AUD is off its highs for the day and under a little pressure but I don't think AUD/JPY is as dominant driver it once was. Of more concern is the moves in equity markets in our time zone. If this weakness moves into the northern hemishere and persists for a few days we might just get that risk off event that has been lacking lately.