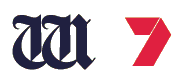 So, the vast majority of the EDITDA for the newly merged company will come from Free To Air television and WAN's assets.  Both of these segments fall under the "traditional" media tag mentioned earlier.  They havehigh production costs (cameras, actors, printing presses), are very competitive (channels 7, 9, SBS and ABC) and are being assailed by the cheap and ubiquitous internet.  Only 2% of EBITDA comes from online sources.
To take a macro view, the table below (WAN buyout prospectus, pg 60) shows the size of each segment of the entire Australian advertising market.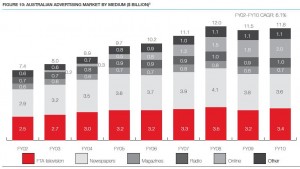 FTA television has grown at an average annual rate of 4% – barely above inflation.  It's plain to see that the online section is the standout, growing from 5% to 17% of expenditure in the last 5 years.
The rate of growth of the online market is highlighted further the following graph (WAN prospectus, pg 65).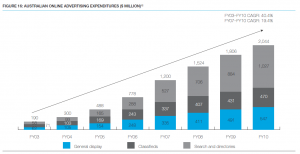 However, the new company will only have a 2% EBITDA exposure online.  So obviously it isn't looking to tap into the rapidly growing online market.  With the purchase of Seven, they'll have a very big exposure in TV and an increased exposure to print, but a miniscule exposure to the medium of the future – the internet.
Summary
So, in summary the buyout is a bad deal.  It takes a high-ROE print monopoly and adds a poor-performing media asset that has little exposure to the growth segment of the market.  I guess you can chalk this up to another boomer-controlled media company struggling with the challenges of the internet.  Or maybe it's just a run of the mill, over-priced M&A.
Over at Empire Investing, we've taken a look at the composition of WAN post-buyout and calculated the new intrinsic value.  With the increase in equity and forecast earnings for FY11, we wouldn't buy it for anything more than $4.20.
If someone can shed some light on the drivers behind the deal, please do.  I just can't see what the point is.
In any event, I bet Kerry Stokes is stoked.