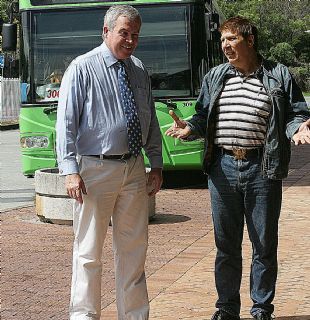 We received an e-mail from a reader last night about something they had heard on ABC local radio in Brisbane as they were driving home.
On the way home from work today, on 612 ABC Brisbane's news, there was a story about the member for Gaven, Alex Douglas (shown above) suggesting that the state and federal government offer Japanese ultra cheap flights so they could stay in the empty gold coast units.

This is where it got interesting. He said that there were over 3500 EMPTY gold coast units that could be rented out to Japanese people to counter-act the effects of the tsunami.
I have tried to find the transcript of the interview on the net and by contacting the ABC to see if there is one available. I so far have received no response, I therefore cannot 100% validate this readers claim.
I do support Alex's intentions, however having a number of Japanese friends who currently live in and around Tokyo I think things will need to get much worse before there are any takers. I am very doubtful however that the admission of 3,500 empty apartments would have been welcomed by the local real estate industry that now seems to be taking a daily beating from various news sources. Today it is SQM's turn via smartcompany.
The property market in south-east Queensland is in danger of a meltdown, with prices to drop by up to 7% this year alone, one property expert has warned, saying there is too much stock on both the Sunshine and Gold Coasts.

However, the comments come as a new report from ANZ argues the housing market has held up just fine, arguing prices will ultimately be sustained by higher income growth.

Speaking at a property investment conference, SQM Research managing director Louis Christopher revealed his rather bearish predictions for the Queensland market, saying the sheer amount of stock in those areas has turned the region into a "basket case".

"Stock levels are increasing in south-east Queensland more so than last year, and it's getting back to those 2008 levels now. We think that represents a massive oversupply."

Christopher points to SQM data which shows there are over 2,000 properties in Surfer's Paradise in one postcode alone. "This is bordering on a meltdown scenario," he says.

"We think there has been a 9% decline on the Sunshine Coast since 2008, and we think we're going to see a 7% decline before the end of this year."

"This is a significant issue, and unfortunately it's going to hurt a lot of amateur mum and dad investors."
Don't forget about the banks Chris.