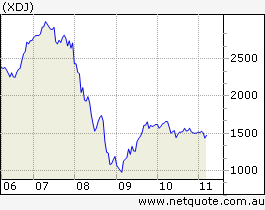 Picking the direction of retail demand is an issue assuming considerable importance for investors in the stock market.  It is a matter of deciding between two reversions to "normal" behaviour — consumption norms or savings norms. Many brokers are anticipating that consumer demand will be lower, but return to normal, which is why they have buys on a number of retail stocks. But there is another norm threatening that: a return to "normal" savings levels.
Southern Cross Equities plumps for the latter norm (see report). They argue there is a structural, not cyclical shift occurring with Australian discretionary spending that is being masked by strong macro economic indicators.
Australian households have completely pulled in their consumption horns. For a variety of reasons Australian households have lost confidence and remain in the most conservative mindset in over a decade.
The two speed economy is gaining pace. High house prices are creating a negative consumption effect, although not, so far, a negative wealth effect.
The Southern Cross report says:
…the "home equity ATM" has been turned off and households, due to the internet, have become far more price aware. They are now conditioned to wait for sales/bargains, and I truly believe pricing power has swung from retailers to consumers and that includes in supermarket retailing where we are now seeing all out price war between the majors.  Supermarkets will not prove defensive and are in the process of a medium-term P/E de-rating. Fights between two gorillas never end well. The only discretionary stock we recommend is the category killer JB Hi-fi (JBH), while CC Amatil (CCL) appears the only true "defensive growth" stock in the larger caps. The rest you simply don't need to own until their multiples (and analyst commentary) starts acknowledging that this is a structural rather than cyclical event.
We also get this from Morningstar Equities, which notes that the household savings ratio has increased to about 10% for the first time on over two decades:
This is likely to be the beginning of a longer term skewing of the Australian economy towards the mining sector. Dutch disease on steroids because it is likely to be accompanied by reductions in household debt. It will inevitably have an effect on the stock market. There may be a cyclical return of consumer discretionary demand, but it will probably have to come through some form of income redistribution.
Meanwhile, the Southern Cross report points out, you can get Rio shares on half the multiple of Myer, and Woodside on the same multiple as Woolworths. I will only add that if you read Houses and Holes six months ago, none of this is news.