Paul Krugman has set off a storm of debate in the US blogosphere this week, with a post in the New York Times that raised the possibility of hyperinflation in the US.
Right now, deficits don't matter — a point borne out by all the evidence. But there's a school of thought — the modern monetary theory (MMT) people — who say that deficits never matter, as long as you have your own currency.

I wish I could agree with that view — and it's not a fight I especially want, since the clear and present policy danger is from the deficit peacocks of the right. But for the record, it's just not right.

The key thing to remember is that current conditions — lots of excess capacity in the economy, and a liquidity trap in which short-term government debt carries a roughly zero interest rate — won't always prevail. As long as those conditions DO prevail, it doesn't matter how much the Fed increases the monetary base, and it therefore doesn't matter how much of the deficit is monetized. But this too shall pass, and when it does, things will be very different.

So suppose that we eventually go back to a situation in which interest rates are positive, so that monetary base and T-bills are once again imperfect substitutes; also, we're close enough to full employment that rapid economic expansion will once again lead to inflation. The last time we were in that situation, the monetary base was around $800 billion.

Suppose, now, that we were to find ourselves back in that situation with the government still running deficits of more than $1 trillion a year, say around $100 billion a month. And now suppose that for whatever reason, we're suddenly faced with a strike of bond buyers — nobody is willing to buy U.S. debt except at exorbitant rates….

once we're no longer in a liquidity trap, running large deficits without access to bond markets is a recipe for very high inflation, perhaps even hyperinflation. And no amount of talk about actual financial flows, about who buys what from whom, can make that point disappear: if you're going to finance deficits by creating monetary base, someone has to be persuaded to hold the additional base.
This post has not surprisingly enraged the "modern monetary theory", or MMT people, whose views Krugman is attacking. In response, Bill Mitchell of Billy Blog fired off a (slightly unhinged) public letter to Krugman, accusing him of "poor scholarship." Dear Paul Krugman, You Do Not Understand MMT, wrote Cullen Roche at Pragmatic Capitalism. Scott Fulwiller wrote a similar post at Naked Capitalism.
What are they so upset about? Well, the people Krugman is accusing of arguing that deficits never matter, have never actually argued that deficits never matter.
What they do argue is that for sovereign nations that issue their own currency, such as the US, there is no "solvency risk" of the sort that is faced by a private company, a state like California, or a member of a currency union like Greece. This is fairly self evident. If you are the monopoly issuer of the currency that your debt is denominated in, there is no reason to ever have to default on your debt because you can always print more currency. However, that doesn't mean that you can just spend recklessly without consequences. This is also fairly self evident, because under certain conditions, rising government deficits will lead to inflation. Here's what Randall Wray, one of the leading figures in the MMT crowd says about deficit spending in one paper:
Government deficits might place two kinds of pressures on prices, one coming from the demand side and one coming from the supply side. If resources are fully employed, any extra demand would cause input prices to rise, which could be expected to be passed on in the form of higher prices. If the government's budget were essentially unconstrained because it could run deficits, then it would continue to compete with the private sector as the economy moved beyond full employment, leading to continuous inflation.

We can also identify two kinds of supply side price pressures. If the government spending led to bottlenecks for particular inputs (highly skilled engineers, certain natural resources), this could increase the cost of these inputs at least temporarily… Another supply side source could result if fiscal deficits did lead to crowding out of private investment, leading to lower growth of capacity and productivity; if demand continued to grow so that it outpaced the growth in supply, inflation could result.
So to demolish Krugman's first straw man, nobody is making the argument that deficits never matter. The point is that they are generally not inflationary when an economy is suffering from high unemployment and there is plenty of spare capacity.
Krugman's next argument that the US could run into hyperinflation if it kept running $1 trillion deficits is just as bizarre, as it is based on a totally implausible set of hypotheticals, which he acknowledges himself by stating "at this point I have to say that I DON'T EXPECT THIS TO HAPPEN." Still, given Krugman's influence as a columnist for the New York Times, you would think he would be a little more cautious about dishing up unrealistic hypothetical scenarios which are likely to be misunderstood.
Without even getting into any monetary theory (see some of the links above if you are interested), what is the point of setting up a hypothetical scenario in which the deficit doesn't fall from the current $1 trillion a year even as the economy approaches full unemployment? After all, a large portion of the current deficit is attributable simply to the collapse in tax revenues (and a corresponding rise in automatic stabilisers such as unemployment benefits) caused by the weak economy.
As the economy grows faster and approaches full employment, tax revenues will automatically rise, welfare payments will automatically fall, and the deficit will fall accordingly. This automatic process will happen even without any change in current policy. Furthermore, given the rise of the Tea Party and heated debate about the public deficit leading up to the 2012 Presidential elections, further spending cuts are inevitable.
In any case, let's take a look at how close the US economy is to full capacity today. This chart from the Hamilton Project shows that to reverse the job losses of the recent recession would take another decade, even if the monthly rate of job creation returned to the fastest annual rate seen in the 2000s. In a more realistic scenario in which jobs growth is slower than that, we're looking at longer than a decade. The other two lines on the graph below are basically pie in the sky stuff. In other words, the economy is not going to be anywhere near full capacity any time soon.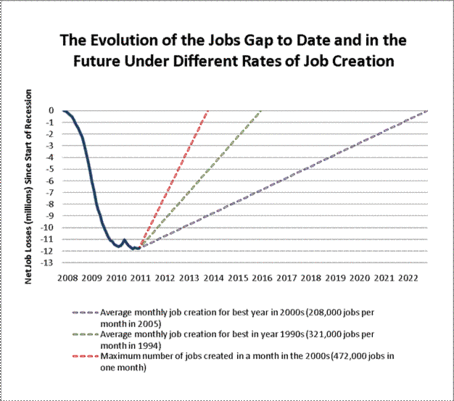 And if that's the case, it's virtually impossible to imagine any kind of scenario in which you could get hyperinflation in the US. The fact is, you need a very special set of conditions to get hyperinflation. Usually it requires not only completely incompetent fiscal and monetary policmaking, but in addition, some sort of supply side shock such as a massive destruction of productive capacity due to war (ie Weimar Germany).
In any case, right now the US looks a lot more like deflationary Japan than the hyperinflationary Weimar Germany.
Krugman strikes again.