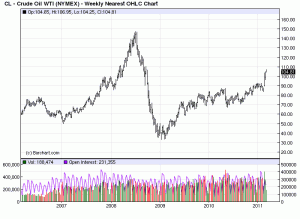 Having read with fear, bordering on terror, the percipient Houses and Holes' blog Sell Signal, I am struck by how different broking analysis is from H&H's dire world of lightning strikes and imminent turmoil. Grains, H&H informs us, may be decoupling. Metals are getting "smashed". Wheat may be a give away. But none of that seems to be having much effect on a rather comfortable, even complacent, analyst community. There is a distinct lack of anxiety about the disturbing signals coming out of the Middle East and North Africa.
To some extent this is to be expected at the end of a reporting season, when the broker production line is at its most intense and repetitive. But it is a strange absence, suggesting that traders may be able to take advantage of complacency by selling now and buying back in later.
Macquarie Equities does at least mention Saudi Arabia's "day of rage" on March 11, but does not say anything much more than it is "keeping a close watch" on events. Goldman Sachs says that its macro indicators are throwing out a target of 6,100 for the ASX 200 by the end of the year, a 22% return for the year. Goldman is looking for an improving US economy and global growth of 4.5%. That might turn out to be exceptionally brave if the oil markets get into trouble. Amcor, Computershare, NAB, News Corp, One Steel and Qantas are Goldman's preferred big cap picks.
Deutsche Bank is also bullish on the US economy, although it does advise going overweight gold because of a growing threat of inflation and rising geopolitical risks. Deutsche is also advising going overweight in energy, which seems a rather obvious play in the circumstances. Macquarie, by the way, is advising, for international oil punts, investing in Royal Dutch Shell, ExxonMobil and Oxy. For plays on incremental natural gas into European markets BG and Statoil are also advised.
Deutsche prefers industrials to banks, is overweight in mining and argues the overall market is cheap, with the price earnings ratio about 12 times "for some months now". It expects more oil and gas exploration – pretty much a one way bet – which should favour Worley Parsons in Canada, where the company generates about a quarter of its hydrocarbon business.
And so on. Predictions that mostly assume business as usual, with the oil problems seen as only marginal. But if Houses and Holes is right that we are getting into a bit of a hole in the global economy, then it will not be business as usual. This suggests the kind of disparity of perception and sentiment from which traders can derive strong plays. What analysts advise and what investors do are not the same thing, of course. But there nevertheless does seem to be an element of complacency.