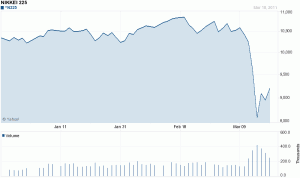 The financial markets are starting to settle after the tsunami in Japan, although matters remain ominous in North Africa. Brokers are starting to return to more conventional analyses of commodity trends, suggesting that stocks will also return to more predictable valuations, experience less volatility.
UBS is reasonably bullish on the effects of the earthquake on Australia's trade. Its analysis is fairly typical of the sentiment in the market about the disaster. UBS notes that Australia exported $44 billion last year to Japan, which accounted for 19% of all exports. Of that, 87% is resources, dominated by coal, iron ore and LNG. Australian is also in the top three of recipients of outbound portfolio investment (after the US and UK). UBS is of the opinion that there will not be large repatriation of funds to Japan because the government will bear the reconstruction costs and if there is a need for liquidity institutional investors are more likely to turn to Japanese government bonds. Japan's hermetically sealed financial system – in which almost everything is owed to itself – will remain.
UBS predicts Australia's exports will be slightly negative in the short term and positive in the medium term. JP Morgan singles out Qantas for being adversely affected, with a $40 million drop in profit before tax. The Australia-Japan route counts for about 9 per cent of Qantas' capacity. But Morgan still has an overweight recommendation.
Macquarie analysis is saying that with energy and labour costs rising cost inflation is becoming an issue for many miners. The difference between high cost producers and low cost producers will be amplified. High prices will mean cash margins for low cost producers will expand, possibly leading to more M&As or increased capex. Further concentration of the global oligopolies is a possibility.
The future of uranium is obviously more uncertain, although it is early yet. Morningstar retains a buy on ERA noting that the company "hasn't been blessed with overproduction of late". Morningstar thinks the tsunami may be another excuse for BHP to delay its decision on Olympic Dam. Morningstar has an accumulate recommendation on the stock.
LNG is an obvious winner, so Morningstar makes the predictable call with a buy recommendation on Woodside. It has a buy on Equinox Minerals and an accumulate call on Mt Gibson.
Morningstar Equity Research 220311