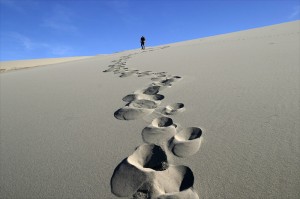 The RBA's credit aggregates for February continue their recent trends of a slow disleveraging. Month on month, owner occupier credit advanced a seasonally adjusted 6.9% annualised. Over the year it was the same.
Investor credit slowed to its lowest growth rate since September 2009. Month on month and seasonally adjusted it grew 4.6% annualised. Over the year it was up 7.6%, so we've seen a marked slowing in the past few months.
Revolving credit was up a negligible 1.9% seasonally adjusted and annualised on the month, which is a above year on year growth of 1.9%.
The star performer was business lending, up 7.8% seasonally adjusted and annualised. The first decent month in as long as anyone can remember.
So, what do we make of it all. It's a volatile series so the monthly growth figures have limited value. What is clear in trend terms is that owner-occupier finance is stalled at 7%. Investor housing credit is fading. Credit cards are still on the nose. And maybe, at last, there's some business lending going on but it's getting off the floor too early to say.
Given Rismark is also out today declaring virtually zero house price growth year on year for February, there's nothing here to disprove my notion that we're going to need above 7% growth in mortgage aggregates to generate any capital growth.
David Llewellyn-Smith is Chief Strategist at the MB Fund and MB Super. David is the founding publisher and editor of MacroBusiness and was the fouding publisher and global economy editor of The Diplomat, the Asia Pacific's leading geo-politics and economics portal.

He is also a former gold trader and economic commentator at The Sydney Morning Herald, The Age, the ABC and Business Spectator. He is the co-author of The Great Crash of 2008 with Ross Garnaut and was the editor of the second Garnaut Climate Change Review.
Latest posts by Houses and Holes (see all)