Earlier this month, the US Treasury released its much anticipated report to Congress on Reforming America's Housing Finance Market. 
At only 31 pages, the report is a refreshingly easy read. It identifies clearly and concisely what went wrong with mortgage financing and lays out three broad options for reform aimed at:
Encouraging greater private sector involvement in the mortgage market by reducing government support for housing finance and winding down Fannie Mae and Freddie Mac.
Restoring trust and integrity in the housing market through: stronger underwriting standards (including larger down payments) and consumer protection laws; increasing transparency, standardisation and accountability in the securitisation chain, including by requiring securitisers and originators to retain 5% of a security's credit risk when sold to investors; and strengthening regulatory oversight.
Better targeting of government support for affordable housing.
The specific reform options outlined by Treasury are as follows:
Promoting a privatised system of housing finance with the Government's insurance role limited to credit worthy lower and moderate income borrowers.
Same as (1) but with a government backstop (guarantee) mechanism added to ensure access to credit during a housing crisis or credit crunch. The guarantee would be provided for a fee set at a sufficiently high level that it would only be competitive in the absence of private capital.
Same as (1) but with the Government providing reinsurance of private mortgage insurers. Under this option, the Government would charge a premium for this reinsurance, which would be used to cover future claims and recoup losses to protect taxpayers. Holders of the insured mortgages would only receive payment from the Government after the private mortgage insurers had been wiped out.
The reform options laid out by Treasury are, in my opinion, a significant improvement on the system that existed prior to the US housing crash. Importantly, the Government's involvement in the housing market and moral hazard would be significantly reduced. And with it, the risks inherent in mortgage lending would be better captured in mortgage credit availability and pricing. 
However, the report is somewhat inconsistent in that it advocates higher down payments on the one hand, but then proposes to give higher down payment assistance to "qualified low- and moderate-income homebuyers." on the other. 
The proposals, if implemented, could also cause some short-term pain for the housing market, since the reduced access to financing and increased mortgage rates would likely reduce housing demand, thereby driving home prices lower, increasing the number of homeowners with negative equity, and increasing the number of defaults and foreclosures.
The Treasury also specifically targets affordability in the rental market by providing funding to "support the development and preservation of more affordable rental housing for the lowest income families to address serious supply shortages" in order to provide families with "rental options with good schools and good jobs".
Finally, the report questions the efficacy of the mortgage tax interest deduction, which Treasury identifies as being unique to the US and partly responsible for causing economic distortions and risks.
Where the report goes missing:
Although the Treasury's report is targeted at mortgage financing, I was disappointed that it did not acknowledge the role played by regulatory barriers to land supply.
As explained in
The Truth About the US Housing Market
,
states that have operated restrictive land-use policies that significantly restrict the expansion of suburban residential development have experienced volatile boom/bust cycles and lower levels of housing affordability compared with states that have adopted liberal market-based approaches (i.e. 'more responsive land-use regulation').
On the first point – house price volatility and boom/bust cycles – first consider the below chart, which plots the CPI-adjusted house price performance of the cities included in the 20-city Case Shiller Composite index and deemed by Demographia and/or the Brookings Institution as having "more prescriptive land regulations".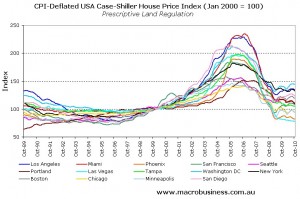 As you can see, prices have been highly volatile, with all cities experiencing wild boom/bust conditions.
Now consider prices in the cities within the 20-city Case-Shiller Composite Index with "more responsive land regulations".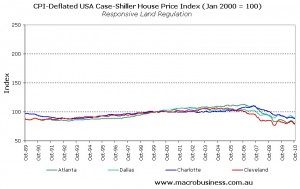 As you can see, real house prices have remained relatively stable in the supply responsive cities.
The situation is exactly the same when FHFA house price data is used at the state level (see here and here).
Now consider the "Median Multiples" (median house price divided by gross annual median household income) as calculated by the  Harvard University Joint Center on Housing from 1980 to 2006.
First, the cities with "more prescriptive land regulations":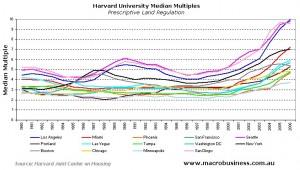 Now, compare to the Median Multiples of cities with "more responsive land regulations":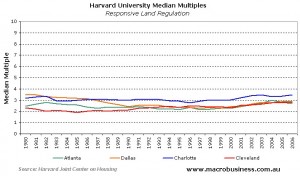 As you can see, Median Multiples have been both higher and more volatile in the supply restricted states, with the exception of Minneapolis-St Paul.  Even Dallas Texas, which is said to have experienced a 'large' housing bubble in the early 1980s, never experienced a Median Multiple above 3.5.
The key point is that by focusing only on mortgage financing (the demand-side), the Treasury is only addressing half of the housing equation. If it truly wants to achieve greater financial and economic stability, improved housing affordability, and lower levels of speculation in the housing market, it needs to also look at removing regulatory impediments that make it impossible to bring low-cost housing quickly and efficiently to market. 
It is no surprise that the epicentre of the US housing bubble/bust – California – has nearly 50% share of Jumbo (large non-conforming) mortgages, despite accounting for only 10% of the US housing stock. The reason lies in California's strict land-use policies that limits home construction, thereby ensuring that extra credit demand feeds into higher prices instead of new construction.
Now compare California's experience to Atlanta, Georgia, which was subject to intense predatory and sub-prime lending in the lead up to the global recession. Because of its permissive zoning and abundant land, Georgia was able to easily increase its housing stock, which prevented large price increases and a serious bubble (see above charts).
This is not to say that Georgia is an ideal housing market – it's not. Whilst Georgia had the supply-side down pat, its consumer protection laws and underwriting requirements were inadequate, leading to prolificate lending and a high number of bank failures. Nevertheless, Georgia's responsive housing supply was able to mitigate these credit excesses, thereby limiting the overall damage to its economy.
A better model can be found in Texas, which has adopted both an open market-oriented approach to land-use regulation (see here for details) as well as stronger consumer protection laws and underwriting standards, which ensured that credit demand was kept in check whilst other states were gorging on easy money.
The Treasury could learn a trick or two from their compatriots down south. 
Cheers Leith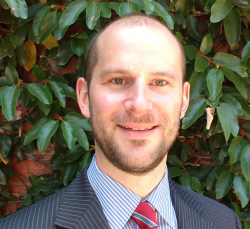 Latest posts by Leith van Onselen
(see all)