The Australian Financial Review (AFR) today published an article entitled Banks in $135bn funds chase, which highlighted the significant offshore funding challenges facing Australia's banks. Here's an extract of what the AFR had to say:
The heavy reliance of Australian banks on international financing will force the big four banks to seek about $135 billion in wholesale funding this year despite efforts to find more secure sources of funding…

…senior bank executives fear a strong rebound in credit growth would stretch their funding tasks and force them to ration credit or risk losing their prized AA credit ratings…

The financial crisis has prompted regulators, ratings agencies and investors to pay greater attention to how banks fund themselves, putting Australia's major lenders under the gun for their heavy reliance on wholesale money markets…

When term funding is measured as a proportion of total assets, each of the big four are in the list of the world's heaviest issuers of wholesale money, according to UBS….

Oliver Wyman, a consultancy, estimates that if credit growth rebounded to 8.5%, which is below the average of the past decade, and growth in deposits trailed off then the big four banks would need to borrow a total of $1.3 trillion in wholesale money. That figure is $100 billion more than Australia's GDP.

To support such a funding task, the big four would need to issue $300 billion in bonds each year…more than double this year's funding needs of $135 billion. It would also make Australian banks even more vulnerable to tremors in international financial markets…

It expects Australian banks will only raise $20 billion in covered bonds each year.
Regular readers of this blog will remember the below chart showing the extent of the banks' reliance on offshore wholesale borrowings.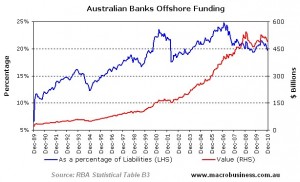 As shown by this chart, the percentage of bank liabilities funded from foreigners has increased from just over 5% in 1989 to around 20% currently, totalling nearly $500 billion. Over the same period, the banks have increased the proportion of loans channelled into housing, with housing loans increasing from around 35% of total lending in 1990 to 57% currently.
According to the AFR article, the CBA is the most reliant on wholesale funding, needing to raise around $50 billion this year. This is followed by Westpac (around $35 to $40 billion), NAB ($28 billion) and ANZ (around $25 billion).
The Australian banks' strategy of borrowing heavily offshore to pump housing worked fine whilst global credit conditions were benign and household debt levels and asset prices were rising.  However, amidst heightened risk aversion in the wake of the global recession, the banks' ability to raise funds offshore seems to have reached its limit.
At the same time, Australian households appear to be reaching peak debt, whereby they are unwilling or unable to continue increasing their borrowings.
This morning's article by Houses and Holes was particularly insightful. After remaining above 10% for the past 25 years, Australian mortgage credit is now growing at its slowest pace since the early 1980s, albeit still above income growth (see below chart).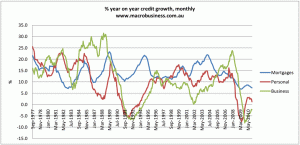 Indeed, this blogger agrees with Houses and Holes that Australia appears to have reached a 'new normal' in that it "can no longer rely on the accumulation of offshore debt to boost asset prices and consumption". Credit growth is likely to remain subdued for an extended period as the Australian economy disleverages.
And with credit growth stunted, the days of solid house price growth appear to be over.
Cheers Leith
Leith van Onselen is Chief Economist at the MB Fund and MB Super. Leith has previously worked at the Australian Treasury, Victorian Treasury and Goldman Sachs.
Latest posts by Leith van Onselen (see all)