This blogger is a regular trader of the Australian stock market, and one of his studies has been – why do stock markets start a new bull market?
There are many technical reasons/readings one can make, but the key prerequisite for a new bull market in stocks is economic growth. So this blogger uses macro-economic analysis as part of his toolbox to ascertain the difference between a new bull stock market, or an exuberant bear market rally.
Both are easy to define in hindsight, but there is one crucial factor, in a post-Volcker "modern monetary" economic world, that clinches the difference. Australia is no different in this respect, having similar "animal spirits" to other Western nations who operate in the same economic paradigm.
There are clear signs that this current rally is more bear than bull. I'll go into the other "indicators" I watch closely in future posts, but my radar went off recently when one of this blogger's favourite conventional theorists proposed that the economy is a lion dressed up as a lamb. According to Gittins!:
Unemployment is a "low" 5% (even though underemployment is chronic)
Planned investment is very high (but only for commodity exploitation, not productivity increasing infrastructure or manufacturing)
Inflation is just above the "target" band of 3%
Household disposable income grew by 6.4% in nominal terms in the last 12 months (but in reality it did not keep up with non-hedonic price inflation)
What the conventional theorists  forget is that a "modern monetary" economy doesn't rely upon modest inflation, low unemployment or higher incomes – all conveniently measured and modelled by econometric blowhards.
The modern monetary economy's lifeblood is debt – the flow of credit is what makes a modern monetary fiat-based economy live and breathe.
The fact is, until the Australian economy creates more debt and that credit flows throughout the economy, reflected as higher house prices, increased retail spending and above inflation (measured as the increase in real-world prices, not the basket case that is the CPI basket) income growth, we remain in a stagnant, possible technical recession growth phase.
Credit growth (measured by primary statistics and the Post-Keynesian "Credit Impulse") is this blogger's key indicator – because bull stock markets are more or less a Ponzi scheme (at least towards the end) as annual growth becomes a multiple of underlying nominal economic growth.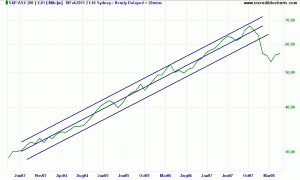 When this blogger sees a large increase in margin lending, more aggressively advertised structured finance products, year-on-year increases in mortgage finance lending and business finance, coupled with upwardly revised earnings figures and higher projected-IRR figures for expansion projects , it will know we are in the middle stages of a stable bull market in stocks, leading ultimately to Minskian instability.
Until then, it is best to ignore the conventional theorists who seem to have no grasp on uncertainty in a modern monetary world, and keep your capital close to your chest.
Latest posts by Chris Becker (see all)