After last week's bifurcated capex survey from the ABS analysed here, today we have the release of the Australian Industry Group's own capex survey (see below). And it's bye, bye manufacturing, with a bullet: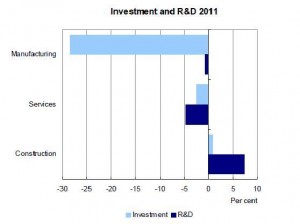 Anyone knows that to make stuff these days you need to compete with low cost manufacturers in Asia. To do that, you either need to be investing in productivity enhancing equipment, or innovating like buggery through R&D. The above graph says it all for Australian manufacturers. They've given up. The expected capital expenditure is down an extraordinary 28% year on year and R&D is down too, just as we're supposed to entering the handoff to the private sector in this business cycle.
And there's also a bizarre pattern emerging in services. First, executives are expecting a huge jump in spending: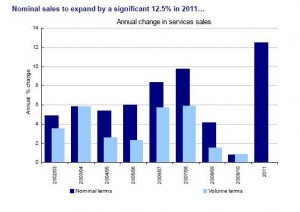 Hello? Clearly not everyone has the memo about Australia's new normal. Where exactly do services executives think this historic spending binge is going to come from? As this blogger has explained before and the RBA has been at pains to explain, if consumers shift to spending, rates will rise, choking off spending.
The capex projections from the same services firm's actually do reflect this reality: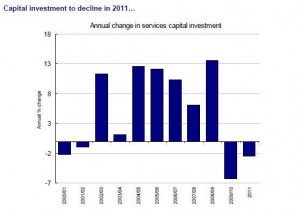 So, we'll just have to put the expected top-line growth down to some "positive thinking".
The only other image from the AIG report that is worth canvassing is this one: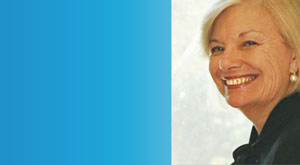 One wonders if a slightly more sombre photo of  AIG head, Heather Ridout, would have been more appropriate as her core constituancy embraces oblivion.
Business Prospects in 2011 (1)
David Llewellyn-Smith is Chief Strategist at the MB Fund and MB Super. David is the founding publisher and editor of MacroBusiness and was the founding publisher and global economy editor of The Diplomat, the Asia Pacific's leading geo-politics and economics portal.

He is also a former gold trader and economic commentator at The Sydney Morning Herald, The Age, the ABC and Business Spectator. He is the co-author of The Great Crash of 2008 with Ross Garnaut and was the editor of the second Garnaut Climate Change Review.
Latest posts by David Llewellyn-Smith (see all)