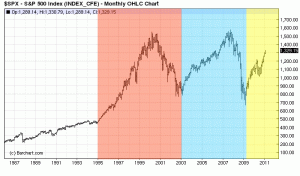 With the US stock market on one of the greatest tears that this blogger can recall and the NASDAQ just 50 points shy of its post-bust high, it's time we took a step back and looked at the bigger picture.
Above is the most amazing chart in modern finance: 25 years of the S&P500 graphed monthly.
This post won't pretend to be forensic but following are a few bold observations we can make:
First, it is quite clear that the US equity market is stuck in a recurring cycle of boom and bust. Red is the tech boom and bust. Blue is the housing boom and bust. And yellow is the emerging markets boom and bust-to-come.
Second, it is equally clear that from 1995 onwards, the market changed.
Third, the two already busted cycles have had remarkably similar time-frames from trough to peak – 5 years. For fun, mark early 2014 down in your calender.
Fourth, backed by the "Bernanke put", it is quite possible that the US equity market will, over the next couple of years, reach a new record high in the yellow zone. Indeed, it might surpass the high by some margin.
Fifth, in that event, prepare to place one almighty short.
Sixth, anyone holding US shares bought after 1997 or so should forget the buy and hold theory. It's dead.
Seventh, it's ironic that the economic period from the late eighties through the noughties is known as the "Great Moderation" because of an observed decline in economic volatility. As reader "The Lorax" points out, it might better be described as the "Great Financialisation" with all asset volatility that comes with that.
Eighth, the post-GFC regulatory shift that promised so much has delivered … just another bubble. There is no exit here. No end to stimulus of one sort or another. And when the exit is ultimately forced by inflation, place your short.
Despite the simplistic nature of these observations, this blogger defies any economist, broker, analyst, banker … anyone … to look at this chart and declare with a straight face that the US equity market and by extension the global economy is fine.
The serial nature of this bubble-blowing shows that the system that underpins the US equity market is broken.
Latest posts by David Llewellyn-Smith (see all)