An awful lot of rubbish is written about China. Such as how China's property market is overheating, or its exports unbalancing the world economy. So here are a few questions. When did private property ownership start in China? About a decade ago. Who owns most of the land? The Party (which of course gives them an enormous amount of tier 1 capital for the banking system should they need it). How much of China-US trade is shipments inside the same company? About half. What would happen if the yuan was floated? It would go down because money would flood out of China.
And so on. China is still transitioning to capitalism and it has a long way to go.  Nearly all the capital is bank lending, there is virtually no bond market, the stock exchange is big in terms of market capitalisation, but small in terms of the number of stocks (about 800 on the Shanghai exchange), and most of them are government owned.
There is some private banking for the private companies, but it is on the fringe. There is little venture capital. But there is an enormous amount of over-investment – over 40% of GDP – because there is nowhere else to put retained earnings. Put it in the bank and it declines in real terms. Can't buy bonds, the stock market is a casino, can't invest offshore, no real venture capital.
In other words, as this McKinsey presentation illustrates, China is nothing like the developed economies of US or Europe. Yet Western analysts persist in seeing it in those terms, wringing their hands about the trade surplus for instance. China cannot be a mercantile nation like Japan or Korea was, and it knows it cannot. The numbers simply do not add up. China must be a continental economy; as should be obvious from the predictions of when it will become the world's biggest economy (somewhere between 2020-2030). It has opened up its economy to trade in order to suck in Western expertise, not to get rich off Western money.
What really matters in China is what is happening inside China. A furious debate has been going on inside the party about what economic model to use. Some believe the Western model was exposed as flawed by the GFC, others argue it is the best way forward. The argument appears to have been resolved for the latter camp. The transition to free markets will continue.
The most important question posed by China is not what will happen to its exports or property market. It is what will an economic emergence on this scale do to the world economy? This has never been seen before and it will mean an entirely new era of economic activity, perhaps even something beyond the traditional capitalism-socialism dialectic.
Just consider the size. There has been an average 10% real annual growth in China's economy since 1982 which has now lifted the country and more than 400 million of its citizens from poverty.  China's massive stimulus package of 16 trillion yuan ($2.5 trillion) of bank lending over the past two years easily matches that of the United States in absolute dollars, including the latter's 'Quantitative Easing Package II' late last year for an economy that is essentially just over one-third the size of the US in nominal GDP terms.
If China can average 7.7 percent growth over the next twenty years. its $4000 per capita income (only $200 in 1982) — then the Chinese economy will be four times its current size in 2030: $US24 trillion. It was only at that projected level of per capita income ($16,000 in 2030) at which US and Japanese steel consumption began to moderate, and fall. That is a long period of demand for iron ore. Last year, China used twice as much crude steel as the EU, the US and Japan combined.
As The Economist discussed recently, China has plans for unimaginably large development. The below for instance is a plan to create a megalopolis in China's southern industrial heartland, the Pearl River Delta: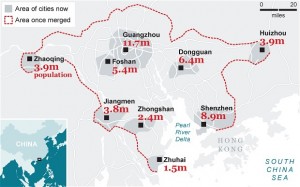 The magnitude of this development isn't going to put pressure only on iron ore supply. As we approach (or pass) peak oil we are also headed into peak supply for an entire range of soft and hard commodities. For this to be sustainable, the world will need another revolution in resource usage if it is to cope. What the CSIRO's James Bradfield Moody calls "The Sixth Wave".
Another key question to ask is: what is the cost of capital in China? The answer is not clear, and that suggests the existence of the same weaknesses that emerged in Japan in the 1990s, where the cost of capital was considered an "un-Asian" concept.
We know what happened to Japan when the cost of capital caught up – asset collapse and deflation. China is at a very different stage of development. At the moment, mispricing only really matters in the banking system and the government has a buffer in the form of land ownership. Japan in the 1990s had a developed financial system, which it allowed to be distorted by asset bubbles in property and the stock market, and Japan then made fundamental mistakes (such as not writing off more debt). China is nothing like that.
But the excessive levels of investment in China suggest that the cost of capital weakness is still there, even if disguised. The Chinese leadership realise there needs to be more consumer spending to balance it out, but whether they can achieve it remains to be seen. It will be hard because the Chinese people save heavily for education and health, both of which are not provided by the State and are expensive.