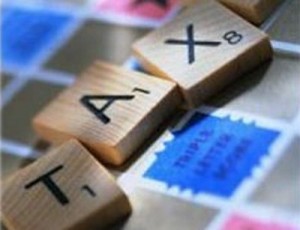 According to the SMH this morning:
The Prime Minister, Julia Gillard, has all but confirmed that a one-off levy to help cover the cost of flood damage is on the cards but the bulk of funds will be raised by budget cuts.

Speaking before the inaugural meeting yesterday with the 13-member taskforce of business and industry leaders assembled to help co-ordinate and contribute to flood reparations, Ms Gillard said "extraordinary circumstances" required "very difficult decisions".

"The federal government is going to step up and do everything we need to do to rebuild Queensland," she said.

She said the contribution by business, both cash and in-kind and estimated to be worth about $500 million, "is certainly not a substitute" for the eventual government contribution.

It is understood Treasury is working on budget cuts and the design of a levy before an announcement as early as next week. The Treasurer, Wayne Swan, will provide on Friday an estimate of the damage bill for roads, bridges and railway lines facing the federal government.
This blogger does not believe in fiscal surpluses for their own sake. There are times when you need to blow the Budget to keep the economy going.
However, that is not the case right now and there are some very good reasons why not imposing a levy is a bad idea.
The first is that by doing so, the extra stimulus entering an economy close to capacity constraints can cause inflation. That, in turn, will drive up interest rates, which flows through to a higher dollar, which puts further pressure on our non-resource tradable sectors of education, tourism and manufacturing.
In short, to not sterilise the stimulus is to ask the tradable goods sector to pay for the adjustment. That is, more Dutch Disease.
Yes, other sectors, like retail, may take some of the burden instead but that's a better option in the national interest. We have an overspending/undersaving problem. Ultimately higher rates will hit them as well anyway.
Second, the need to return the Budget to surplus is not only an economic one. It is a risk mitigation issue too.
So long as the Great Australian Housing Bubble continues, and the banks that fund it rely on over $500 billion of offshore funding, the surplus is our fallback guarantee  on those debts. Returning it to surplus is a powerful symbol for global markets (and yes, as this blogger has argued before, symbols matter to markets) that Australia will and can stand behind those debts.
Please don't misread this blogger, it offers no support for this system. It is a joke. But it would rather aim to correct it over time than through a calamity.
Third, there's a moral dimension to the levy. This blogger has no problem chipping in for disaster relief across the big, brown land. Sooner or later our harsh mother may turn on any one of us.
The only point this blogger will add is that the levy should also apply to all corporations, who are set to benefit through the improved infrastructure, especially miners.