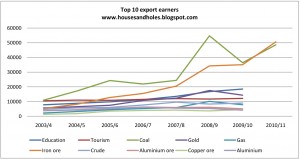 Yesterday Bloomberg published an interesting article on Rio's iron ore output:
Production climbed to 50.1 million metric tons in the three months from 47.2 million tons in the same period a year earlier, according to a statement today from London-based Rio, the second-biggest exporter of the commodity. The figure beat a UBS AG estimate of 46.1 million tons.

"Iron ore was much better than what I was expecting," said Tim Schroeders, who helps manage $1 billion at Pengana Capital Ltd. in Melbourne, including Rio shares. "Given they continue to raise the bar, expectations are pretty high."

Rio Chief Executive Officer Tom Albanese, who is studying expanding iron ore operations by a further 50 percent by 2015 at a cost of about $14.8 billion, said today that demand is growing from steel mills. Prices may rise to a record $250 a ton this year, Credit Suisse Group AG said this month.
Don't adjust your computer. You read it right. CSG are forecasting a $250 ore price this year, despite the rising supply.
We should perhaps take it with a grain of salt. Such forecasts tend to be harbingers of a top. Nonetheless, there is no disputing that the iron ore price is surging above $180 per tonne, and probably on to a record above $190. And with monthly contracts in the offing, forecasts for Australian iron ore revenue will be blown away.
To give you some idea of just how big this boom threatens to become, I've graphed above Australia's top 10 export earners since 2003/04.
There are several points to make.
First, Blind Freddy can see the boom is based largely on iron ore and coal, with gold, gas and education chipping in.
Second, the projected revenues for 2010/11 iron ore and coal revenues are drawn from ABARES. They were made in mid December (find the documents below). In the case of iron ore, they used an average contract ore price of $132 per tonne which included a likely jump in the Q1 quarterly contract price to around $155.
However, if monthly contracts are forced through then the average price will suddenly jump, as it did when annual pricing shifted to quarterly pricing. The projected ramp in iron ore revenue will go vertical.
In the case of coal, the ABARES projection obviously does not include the QLD floods. It may fall, but this blog reckons the market is currently re-pricing the weather risk attached to coal owing to the giant La Nina. The question is, will volumes fall more than the price rises? Bloomberg also reported yesterday that:
Queensland cut its forecast for coking coal output in the 12 months ended June 30 by 10.5 percent to 177.3 million metric tons after flooding inundated the state, Mines and Energy Minister Stephen Robertson said in a telephone interview today. It may take between two and three months for normal mining operations to resume, he said.
If the same 10% is applied to exports, that will be a fall of around 16 million tonnes in the year, approximately $3 billion. This blog reckons higher prices will recover that figure but not until later in the year. The figure will anyway be swamped by the broader boom.
Of course, the longer and higher this boom goes, the bigger the bust at the end of it will be. And the same monthly contracts currently threatening to send the boom parabolic will ultimately deliver the downside of that same curve.
Latest posts by David Llewellyn-Smith (see all)