With the the 7th Annual Demograhia International Housing Affordability Survey due to be released on 24 January 2011, you can expect the banks and property spruikers to come out in force proclaiming that: Australia's housing market is not overvalued; that there is no housing bubble; that house prices will continue to rise inexorably; and that somehow Australia is different to other Western nations.
The first salvo in this campaign was launched today by ANZ Bank, in an article published in Smart Company. Here's some of what ANZ had to say, together with some commentary of my own:
A new report from ANZ claims residential properties aren't overvalued and has taken aim at traditional methods of evaluating affordability, including price-to-income ratios, saying they don't take into account more complicated and less-quantifiable factors including historic declines in interest rates.

Senior economist Ange Montalti also says the current short-term trends affecting housing prices, including a decline in demand and the lack of first-home buyer stimulus, won't last for more than a year, predicting stronger growth in 2011-12.

"We've had a few rate rises, but these are temporary reactions, we believe, and are not significant in the long-term. Our view is that with the housing market being quite tight, we should see some support for prices over the next 12-18 months."

Montalti says the new report was written in order to bring into consideration pricing factors that are not recognised, including those that are less quantifiable such as deregulation which has caused credit to become more widely available.

"So what happens is that people tend to look at main pricing measures including house to income ratios to determine the affordability of the market. But those are only okay as a starting point and don't take into account bigger movements over long periods of time."

"In the late 1980s you had very high mortgage payments, which meant for any given dollar of debt you had to pay 15 cents in the dollar. Any dollar in debt today only costs you seven cents – you can sustain double the debt levels for the same burden."
In a previous report, ANZ produced the following chart in support of their claim that a halving of interest rates justifies a doubling of house prices relative to incomes (see below).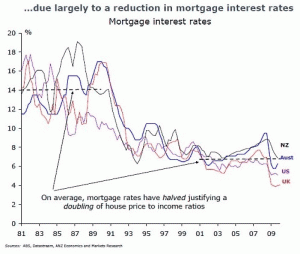 The question then is: why has ANZ chosen the period 1980 to 2010 to compare mortgage interest rates? Why not choose a longer timeframe, say from 1960? What difference would a longer time period make?
Well, as it turns out, choosing a longer time period completely discredits the ANZ's argument that mortgage interest rates have halved, thereby justifying the near doubling of house prices-to-income levels. To prove this point, the below chart plots Australia's standard variable mortgage interest rates from 1960 using RBA data.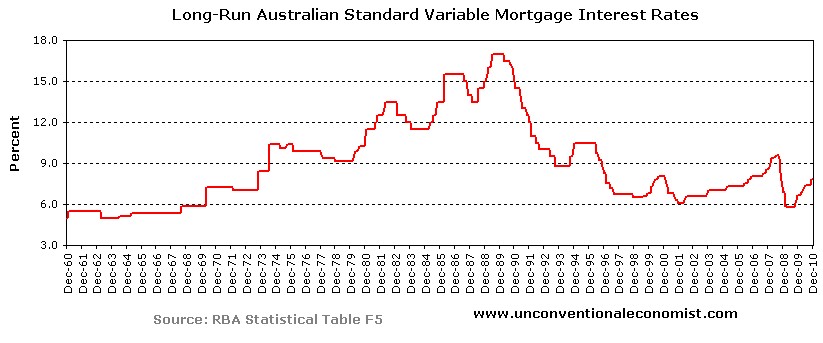 Average mortgage interest rates in the 1960's (around 5.5%) were below the average rates in the 2000's (around 7%). Even rates in the 1970's (around 9%) were only a little higher than those of the past decade.
So, based on the ANZ's logic that low rates justify higher house price-to-income levels, why weren't house prices far more expensive in the 1960's and similar in the 1970's?
Further, with interest rates lower in nearly all advanced economies (see earlier ANZ chart), why aren't other countries house prices even more over-valued than Australia's?
The ANZ's comments also infer that actual mortgage repayments as a proportion of incomes in the 1980s were similar to today, thanks to the near halving of interest rates over this period. Nothing could be further from the truth.
The below chart again uses RBA data to plot the ratio of average mortgage interest payments to household disposable income.
Mortgage interest repayments have increased significantly from 4.9% of income over the second half of the 1980s to 9.2% over the second half of the 2000's! So despite lower interest rates, thanks to our much higher house prices, today's households are sacrificing nearly twice as much of their take home earnings to cover their mortgage interest repayments compared to households in the mid-to-late 1980s.
Let's not forget that the RBA's data, used in the above chart, does not include the repayment of loan principal. When added to the above analysis, housing affordability now compared to the 1980s is even worse! To highlight this point, let's compare 30-year principal and interest (P&I) loan repayments on a $300,000 mortgage at 7% interest versus a $150,000 loan at 14% interest (i.e. twice the loan size but half the interest rate).
The P&I repayment on the $300,000 mortgage is $1,996/month versus $1,777/month for the $150,000 mortgage. This difference of $219/month relates to extra principal repayments arising from the higher starting loan balance.
The point is that when it comes to assessing housing affordability, the crucial issue is how much P&I households actually have to pay, not the prevailing level of mortgage interest rates. In this regard, Australian housing affordability has clearly worsened substantially over the past decade.
Clearly, ANZ has deliberately cherry picked the highest period of mortgage interest rates ever experienced in Australia to justify its argument rather than undertaking a more objective analysis.
Anyway, back to the article.
He [Mr Montalti] points out the country has quite a low delinquency rate, which is evidence of a largely affordable market that is valued correctly.

"Critically, the persistence of very low housing loan delinquency rates over several decades (including through the most recent GFC) is the greatest testament to the sustainability of debt levels and house prices in Australia," the report points out.
Yeah right. Try telling that to the Americans, English or Spaniards. Their delinquency rates were also very low prior to the onset of the Global Financial Crisis (GFC), as shown by the below RBA chart. We all know how it ended there.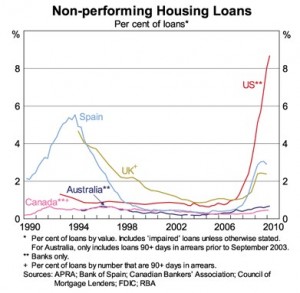 ANZ then predictably resorts to the spruiker's number one argument: that Australia's so-called housing shortage will continue to drive house prices higher:
Looking forward, Montalti believes a shortage of properties in certain areas, based on the population growth models, will keep prices moving in the second half of 2011, moving on into 2012.

"Worst case scenario is that we get some more flatness for a bit longer. But we have pent up demand, and there aren't enough homes, so we suspect there will be upward movements in prices going into 2012 and 2013."
As I have explained previously, unresponsive housing supply results in greater house price volatility – both on the way up and the way down. Such a situation can be explained using basic supply and demand analysis, as shown in Figure 1.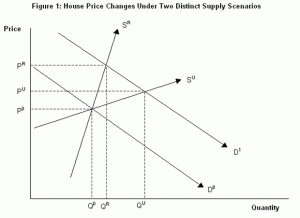 Q0 and P0 represent the initial equilibrium situation in the housing market. Initial demand is provided by D0, whereas supply is shown as either SR (restricted) or SU (unrestricted), depending on whether land supply constraints exist.
Following an increase in demand, such as a surge of investors following changes to tax rules (e.g. Australia's CGT reduction in 1999), the demand curve shifts outwards from D0 to D1. When land supply is restricted, house prices rise sharply from P0 to PR. By contrast, when supply is unrestricted, prices rise more gradually from P0 to PU.
The situation works the same way in reverse. For example, if there was a sharp fall in demand following a contraction in credit availability or a sharp decrease in Australia's Terms of Trade, causing demand to fall from D1 to D0, then prices fall much further when land supply is constrained.
The key point is that declines in demand can bring sharply falling house prices even when supply is constrained. So contrary to the ANZ's claim that Australia's so-called housing shortage would prevent house prices from falling, the opposite is in fact the case.
The economic theory explained above is supported empirically. In the years leading up to the US housing crash, parts of the US – particularly, California, Florida, Nevada and Arizona – operated highly restrictive land use policies and regulations that hindered the ability of housing supply to adjust quickly and efficiently to changes in demand. In contrast, Texas operated liberal, market-oriented land use policies that enabled builders to provide sufficient new housing at affordable prices.
As shown in the below chart, when credit standards and interest rates were loosened in the early 2000s and demand boomed (particularly speculative demand), prices rose sharply in the supply-restricted states, but remained relatively flat in Texas.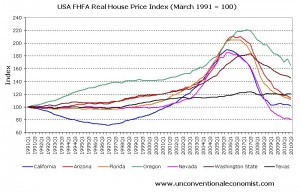 Then, in early 2007 when the sub-prime crisis manifested itself in contracting credit, reduced confidence and then rising unemployment, resulting in large reductions in housing demand, prices fell sharply in the supply-restricted states, but again remained relatively flat in Texas.
In fact, the housing supply situation in California just prior to the crash sounds eerily similar to the situation currently in Australia:
The California Building Industry Association (CBIA) continues to express alarm over what it calls an ongoing housing crisis in Southern California. Alan Nevin, the association's chief economist, projected in a 2006 CBIA Housing Forecast that only 185,000 to 205,000 building permits will be granted this year, far short of the 240,000 new homes needed each year.

Southern California has been experiencing a massive population boom in recent years and it's believed that 6 million new residents will be living in the region by 2020. The population increase, coupled with the housing shortage, has the CBIA worried that it will be increasingly difficult for first-time homebuyers to find a moderately priced unit (9 February, 2006).
Let's also not forget that similar housing shortage arguments were used as a reason why prices would not fall in Britain and Japan in the late 1980s / early 1990s. Both regions then experienced large house price slumps, with Japan's house prices still less than 50% of the peak value reached two decades ago, whilst Britain's house prices fell to their lowest multiple of income ever record in 1997.
What ANZ and other commentators need to understand is that Australia's restrictive urban planning structure should not necessarily be viewed as a bullish indicator for house prices. Rather, whilst supply constraints help to explain the strong house price growth experienced in Australia's capital cities, these same constraints would likely drive house prices down when the inevitable housing correction arrives.
Finally, ANZ provides only a superficial examination of downside risks to the Australian economy and house prices:
The report also points out that in a risk scenario based around a major collapse in the terms of trade, could likely prompt policy settings "that can only be favourable for house prices, particularly if house price momentum has been restrained".

"Policy-makers intent on preparing for a 'post-terms of trade collapse' environment are likely to shift settings to a more accommodating stance. While the economy is likely to slow, the interest rate-sensitive sectors such as housing will benefit considerably and swiftly."
So, according to the ANZ, we don't have to worry about a potential terms of trade (ToT) collapse, since the resulting lower interest rates would benefit house prices!
As I have explained previously, a ToT crash would be devastating for the Australian economy. Not only would unemployment rise, incomes and growth fall, and the Government's fiscal position worsen significantly, but the Australian banks, which have borrowed heavily offshore to inflate the housing bubble, would once again find it extremely difficult to roll-over their maturing foreign borrowings. Only, unlike in 2008, the Australian Government might not be in the position to guarantee their debt given the significant other drains on the budget from diminishing tax receipts and rising welfare payments. Obviously, any resulting contraction of credit would have a devastating effect on house prices.
The ANZ also conveniently ignores Australia's ageing demographics, which are likely to significantly weigh on asset prices going forward (see here for details). They make no mention either of the fact that the availability of credit is likely to tighten significantly as the banks increasingly have to compete with foreign governments in offshore debt markets and the new stricter Basel 3 capital adequacy and liquidity requirements come into effect.
Beware the property spruiker:
The ANZ's motives in talking-up the Australian housing market are understandable. Since 57% of the Australian banks' total lending is directed toward housing, the banks are heavily reliant on increasing mortgage debt to sustain their profit growth. At the same time, the security over their assets (loans) depends heavily on the value of the underlying houses on which they have lent. These two factors combined means that the banks are highly exposed to any change in sentiment that causes: (1) a reduction in mortgage lending; and (2) a correction in house prices.
Even so, these motivations do not excuse ANZ from releasing such a biased and misleading report.
To me, the most disappointing aspect of the ANZ's commentary is that it builds upon the common misconception that house prices in Australia are a one way bet – that the only way is up. In turn, this type of commentary invites greater investor speculation and encourages first-time buyers to leverage-up and purchase a home before they 'miss out'. But with house prices already severely overvalued by every measure, and Australian households amongst the most indebted in the world, you have got to ask yourself whether such encouragement is warranted and in the national interest?
Cheers Leith
Leith van Onselen is Chief Economist at the MB Fund and MB Super. Leith has previously worked at the Australian Treasury, Victorian Treasury and Goldman Sachs.
Latest posts by Leith van Onselen (see all)