An interesting article appeared today in the Fairfax press about the extortionate cost of land on the fringe of Australia's capital cities.
The value of land sold…rose 5.2 per cent to a median lot price of $186,629 over the year to September, or 2.8 per cent in the quarter alone.

"Land price appreciation is a key cause of Australia's housing affordability problem, with higher prices cascading through the residential market to push up the price of both new and existing houses," said HIA Senior Economist Andrew Harvey.

[This appreciation has been] driven by complicated planning processes, a tax policy that encourages buyers to hold multiple homes, and the slow release of suitable land by real estate developers and governments…

In Melbourne alone, the median residential lot price rose 15.1 per cent in the year to September and 5.5 per cent in the quarter to $189,950….

In Sydney the median residential lot value fell 2.2 per cent in the quarter to $269,000, unchanged from a year earlier…

In Brisbane, land values declined for the fourth consecutive quarter, shrinking 8.7 per cent over the year to September to $199,000…

"When the median price of a block of land in Sydney is $269,000 it's easy to see why affordability is spiralling out of control," said RPData senior research analyst.

"When you add on top of the land cost: professional fees, government charges and the actual cost of constructing a home it's no surprise that many Australian's are forced to remain in the rental market, paying off others' mortgages," said Mr Kusher.

"Undoubtedly something needs to be done to address affordability constraints and governments at all levels need to realise that it is a serious problem," he said.

Mr Kusher said there is a disconnect in the market when a full-time working adult earning $68,120 per annum would have to pay between $145,000 in Hobart to $269,000 in Sydney for land to build a house on.

"People looking to purchase the land on which to build a house are paying between two and four times their annual wage just to secure the land," Mr Kusher said.
As I have said previously (here and here), the sharp appreciation of Australia's land prices has been caused, to a large extent, by restrictive land-use policies utilised by Australia's governments. Through growth control policies like zoning and urban growth boundaries, Australia's Governments have effectively told the market where development can and cannot occur. In turn, they have restricted the level of competition in the land market and helped raise its price, pushing-up the end cost of new and pre-existing housing. Up-front development fees and charges have also contributed to the price escalation.
Owners of land on which development is permitted have become the big winners under Australia's restrictive urban planning structure. Naturally and rationally they have restricted supply and raised their asking prices, in the full knowledge that they will not be undercut by land holders outside of the zoned areas. Long time owners of investment properties have also benefited immensely from the house price appreciation associated with these policies.
Meanwhile, the big losers under Australia's restrictive urban planning system are the unlucky owners of land outside of the zoned areas, who can expect little more than agricultural value when they sell, as well as would-be first-time buyers, who are either required to enslave themselves in debt in order to enter the housing market, or are locked-out of home ownership altogether.
Just in case you missed the ridiculously high prices of blocks of fringe land in Australia's capital cities, here they are again:
National Medium: $186,629;
Melbourne: $189,950;
Sydney: $269,000;
Brisbane: $199,000;
Hobart: $145,000.
Feeling ripped-off yet? Well let's now compare these land prices to brand new house and land packages in Houston (Texas) whose land market is fully competitive and contestable, due to lack of Government interference. Large residential blocks typically sell in Houston for around $30,000 (versus $150,000 plus in Australia), which obviously keeps the cost of housing significantly lower. As a result, home buyers can purchase brand new homes like these for a fraction of the cost of comparable homes in Australia: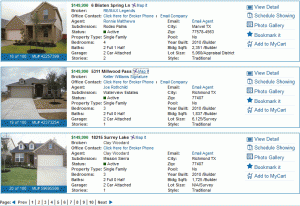 That's right, a Texan homebuyer can buy a brand new large house in Houston for the same price as a vacant block of land in Hobart. And unlike Hobart, Houston is a fast growing major metro area of around 6 million residents with above average incomes. Texas is also home to more Fortune 500 companies than anywhere else in the United States, most of which are located in Houston. This is no sleepy backwater.
I can assure you that I haven't cherry-picked my Houston home examples to suit my argument. You can search for yourself here at the Houston Association of Realtors website. There are dozens of nice new homes in the sub $150,000 category.
If you are a first-time buyer in Australia, or a recent highly-indebted homeowner, you rightfully should be angry, since it is governments' constant poking of demand and strangling of supply that has allowed this crazy situation to develop.
Unfortunately, however, Australia's housing monster has become so large that there is now no turning back. Australia's governments have simply become too addicted to property-related taxes and too many highly-indebted Australians stand to lose from a return to more sane pricing. Let's also not forget that the Baby Boomers, who own around half the housing stock and have around two-thirds of their wealth tied up in housing, would find their retirement 'nest eggs' substantially reduced from any major housing correction. So we are left with a situation where governments and policy makers pretend to care, but say one thing and do the opposite.
But Australia's housing market cannot defy gravity forever and will ultimately correct. And when the day of reckoning finally arrives, and the post-mortem is conducted, then maybe we will achieve meaningful changes to Australia's destructive urban planning policies and ridiculous taxation arrangements (such as negative gearing), as well as more responsible lending arrangements.
Though I wouldn't hold your breath….
Cheers Leith
Leith van Onselen is Chief Economist at the MB Fund and MB Super. Leith has previously worked at the Australian Treasury, Victorian Treasury and Goldman Sachs.
Latest posts by Leith van Onselen (see all)