For some time now we have been corresponding with someone via e-mail. We know exactly who he is, but due to his position within the financial industry he asked to remain anonymous. From this point on we will refer to him as 'Deep Throat'. We can only assume he will be asking to correspond through us on a regular basis. Why has he chosen us ? We aren't sure, but we are not about to deny the public his vast knowledge.
Believe us, whenever he sends us a message it is like receiving a dementors kiss.
Before we publish his first message, we need to make sure our readers are aware of just how scary his message is. He is like 'the stig' of finance in Australia, someone with untold experience in the industry but with the social fortitude to say 'enough is enough'. Indeed when we challenged him on this exact topic his response was chilling.
I am an ex bankers with decades of experience both here and overseas, but not in spite of, I have both a deep understanding on how financing markets work and a deep distrust of your typical banker's motivations and self interest. As far as I am concerned the system is broke both here and overseas due to bad regulation and the opaqueness of the risks inherent in the funding markets. Bankers exploit these opportunities in every market.

This is not capitalism its fraud on the borrower in a massive way. The risk that the mortgage holders of Australia carry on their shoulders for the benefit of the few is massive and unconscionable. Things are likely to get bad but they could be horrendous and even if we are not directly touched by the fallout we'll all know family and friends that will be destined to a life of misery trapped in debt that will take a life time or more to repay. As social beings we all should be concerned about this happening but most of us turn a blind eye because one way or another we've been bribed into believing that the bad sh*t won't happen
Are you scared yet? No? Well here is his first message.
---
Dear ED

I enjoyed your commentary this week and would agree with proposition that CBA's actions are not about interest rates alone or even primarily, its about the big number ie principal. The big 4 are just starting to struggle to fund asset growth which has only been in resi mortgages. It all demonstrates that the fate of the housing market without further government intervention is way out of the hands of the RBA or any other regulator.
The graph below has been put together from monthly RBA data on Australian Banks. I have used a simple comparison of growth in assets and liabilities to make the point. I have produced 3 indexes starting at January 2000 to represent the growth in residential assets, bank deposits and offshore borrowings. I have added a ratio to compare resi loans and deposits as well.
My observations from the analysis are that growth in Australian bank resi loans was primarily funded by offshore borrowings. It also demonstrates that the government guarantee of the bank's deposits and wholesale funding had a dramatic effect in increasing banks borrowings and that probably all of it has been spent on resi loans. There would now seem to be a fair amount of pressure on how banks will fund continuing growth in resi loans. Deposit growth has flattened and offshore borrowing increase is under pressure. A quick look at bank deposit rates will give you a good indication of the demand for money by the banks at the moment.

Although growth in resi loans has fallen as well with September being an annualized 6.8%, the lowest growth since mid 2007. Whilst it may be that our friends offshore particularly in Asia pour money into bank balance sheets under a well sold delusion that Australia has ridden out the GFC better than anybody else rather than just delayed the inevitable. But in the absence of that occurring, only decreasing commercial lending would support the resi market, but again only for a while. Of course the thing which will occur in some degree or another is that resi lending itself will be slowed significantly. It already has over the last 3 months. This slowing of resi lending ultimately will have dramatic consequences for the housing market.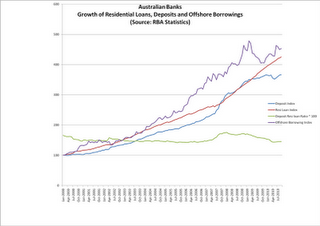 However, vested interests are working on the solutions to make it much much worse. The scenario is that the Government will be lobbied to bring back the guarantee on wholesale debt. However, so that this is directed straight at the housing market, the government will extend the guarantee only to residential mortgage backed securities (RMBS). The Government will charge all issuers the same fee for the guarantee, a gesture at encouraging competition by allowing small and non ADIs access to funds. In return the Government will get some form of commitments to keep mortgage rates low or at least in line with the RBA rates. The gesture to appease the borrowers.
Of course these actions will result in nothing more than a further inject of air into the balloon. We'll all enjoy the temporary boost until the offshore investors realise that this is just another way of increasing Aussie Govt debt which is also increasing way beyond forecasts due to massive misallocation of resources and then suddenly… Bang!
Have a good weekend
---
Have a good weekend !!!… How the hell can we knowing that ??
---
Disclaimer: The content on this blog is the opinion of the author only and should not be taken as investment advice. All site content, including advertisements, shall not be construed as a recommendation, no matter how much it seems to make sense, to buy or sell any security or financial instrument, or to participate in any particular trading or investment strategy. The author has no position in any company or advertiser reference unless explicitly specified. Any action that you take as a result of information, analysis, or advertisement on this site is ultimately your responsibility. Consult someone who claims to have a qualification before making any investment decisions.