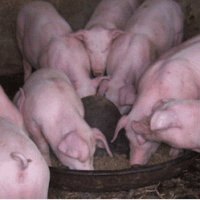 The Abbott Government is once again defending claims of inconsistency around entitlements and welfare following yesterday's announcement of farm aid and revelations that a lobbyist for the food industry was behind the $16 million subsidy provided to the Cadbury factory in Hobart.
Under the $320 million farm aid scheme, farmers will receive $280 million in concessional loans, along with a farming allowance equivalent to Newstart that will be paid fortnightly to help farmers with their daily living expenses. Around $10 million will also be spent on social services, including mental health support, as well as another $10 million for pest control.
Prime Minister Abbott has defended the scheme, stressing that the farm package is not a form of industry subsidy, but rather "is akin to a natural disaster" and that it recognises "a farmer in trouble is in a very difficult situation and in a rather different situation to most of us when we're in trouble".
Others are not convinced. Last week, The Australian's Judith Sloan (also a former commissioner at the Productivity Commission) argued that a significant proportion of assistance is provided to "failing farm businesses" that never make a profit even during the good times. And today, she has backed-up her criticism, claiming the Government has "learnt nothing when it comes to providing appropriate incentives for farmers to prepare for the inevitability of drought", and that "it is the minority of farmers who work marginal land, have land holdings that are too small or engage in unsustainable farming practices that put their hand out for government help in the event of drought". Sloan also claims that the 4% interest rate on offer is too low to properly account for risk, and that the subsidies will likely be capitalised into property values, making the process of rationalisation – e.g. by neighbours buying-out adjacent properties – more difficult.
Sloan's alternative is to:
…make the banks take a haircut on existing farm loans, allow marginal farmers to exit with some dignity and spend any government assistance on helping truly viable farmers cope with droughts, rather than encourage them to beg for government handouts each time a drought comes along.
While it is true that agriculture is different to other industries in that its output and survival depend primarily on the weather, pests and disease – which is not something that most other industries face – drought assistance does appear to have become a permanent feature of the sector, stretching well beyond "exceptional circumstances".
There is also an argument that continual drought assistance has created moral hazard in farming, whereby some farms spend their profits during the good times, whilst socialising losses during the bad – a view supported by the Productivity Commission when it comes to concessional loans:
The Commission does not support offering concessional finance to a group of borrowers to induce them to borrow at a higher level than their own risk preferences would allow. A greater sensitivity to a loss of the farm due to the high non-monetary value placed on farming is rational and does not provide an efficiency case for measures to encourage farmers to take on more debt.
The controversy over the appointment of Alastair Furnival as chief of staff to Assistant Health Minister, Fiona Nash, has also escalated, with claims that Furnival – who co-owns the public relations firm, Australian Public Affairs, which has deep ties to the food industry – was behind the dubious $16 million grant provided to Cadbury in Hobart, as well as the pulling down of the healthy food labeling website as it was about to go live:
Senator Nash's chief of staff, Alastair Furnival, resigned this month when it was revealed by Fairfax Media that he had retained ownership of a lobbying company in breach of the ministerial staff code of conduct. This followed a decision by the minister's office to take down a healthy food website seen as hostile to the snackfood industry.

Mr Furnival had worked for Cadbury and months earlier had lobbied the Tasmanian government on behalf of the company to secure $400,000 for a visitor centre…

[It is suggested] Mr Furnival, who went on to hold a key post in the Abbott government with critical responsibility for food policy, was central to Coalition discussions resulting in a promised transfer of taxpayer funds to the company.

Mr Abbott announced the $16 million pledge during the election campaign. He has since refused to say what links he had to Mr Furnival and what role Mr Furnival might have played in brokering the proposed transfer of millions in taxpayer funds to a multinational-owned company…

Meanwhile, the ABC has reported that the Food and Grocery Council, which has opposed the food rating system site, contacted the Senator about it the day it went live. The site was pulled down the same day…

In a fiery session of the Senate estimates committee, the embattled minister revealed she had known Mr Furnival for years and was well aware of his ownership stake in the lobbying firm and links to the snackfood industry…

Australian Public Affairs had undertaken significant lobbying work on behalf of Cadbury, a company known to be hostile to an initiative using a star system to rate the healthiness of snackfoods.
The Government's "ending the age of entitlement" is fast becoming a brand of hypocrisy. While is seeks to slash benefits to some sections of the community, those with political connections continue to receive pork. In turn, the Government's legitimacy is being undermined, as is its admirable goal of sharing the pain of adjustment.
Related Posts via Categories