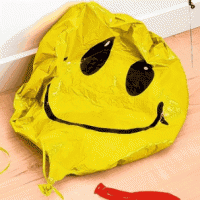 RP Data's Tim Lawless released an interesting blog post yesterday looking at some potential implications of falling consumer confidence on Australia's housing market:
Consumer confidence and housing market conditions are highly correlated. No surprises there… if a consumer is lacking confidence in their household finances they aren't going to be as prepared to make a high commitment decision such as purchasing a property. If the consumer confidence index continues to trend around the 100 mark or lower we can probably expect the exuberant housing market conditions to taper off, despite the low interest rate environment…

The early declines in the index were potentially a natural comedown after the post-election improvement, however more recently the lower level of sentiment is probably more attributable to the weaker jobs market…

…if the current levels of low confidence persist it may be the case the housing transaction numbers start to trend lower as consumers batten down the hatches.
Lawless is spot on about the strong correlation between consumer confidence and the housing market. To illustrate, consider the below charts, which compare both the monthly Westpac-Melbourne Institute Consumer Sentiment Index and the ANZ-Roy Morgan Consumer Confidence Index against various measures of housing market strength.
First, confidence versus house prices: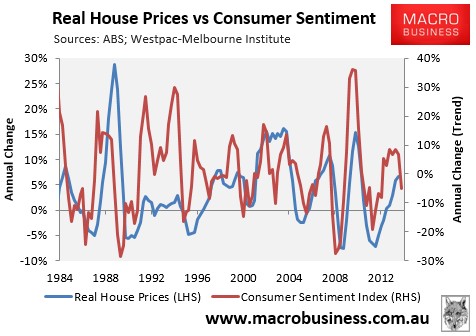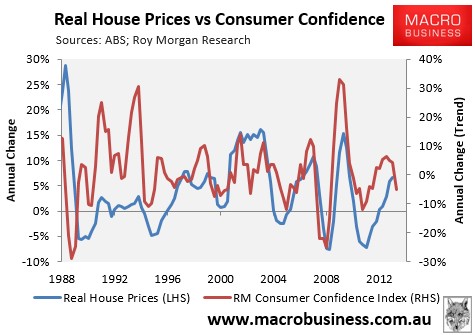 As you can see, there is a strong correlation, with consumer confidence appearing to lead house prices.
Second, consumer confidence versus total housing finance commitments (excluding refinancings):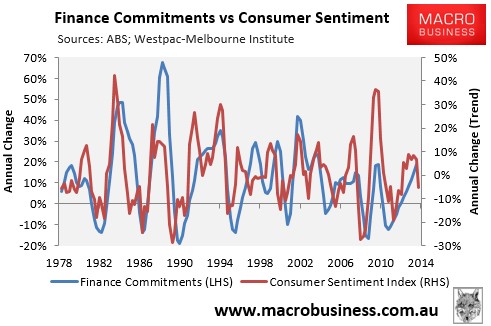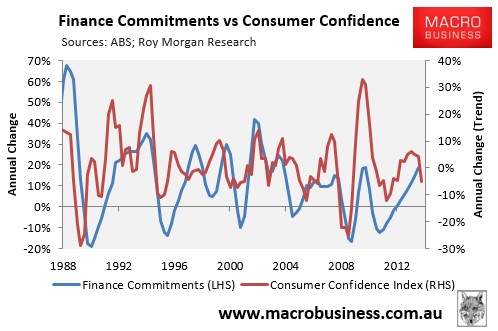 Again, there appears to be a fairly strong correlation, particularly over recent years.
Third, consumer confidence versus dwelling approvals: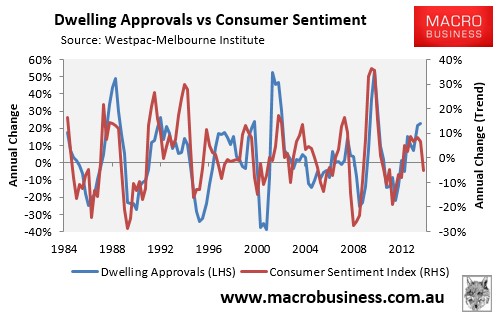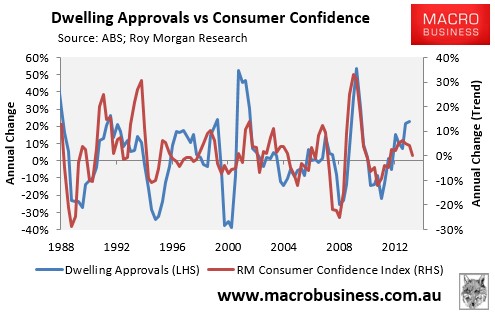 There looks to be a very strong correlation here, with confidence seemingly leading approvals.
Finally, although not directly related to housing, below are charts of consumer confidence versus retail sales (a proxy for household consumption):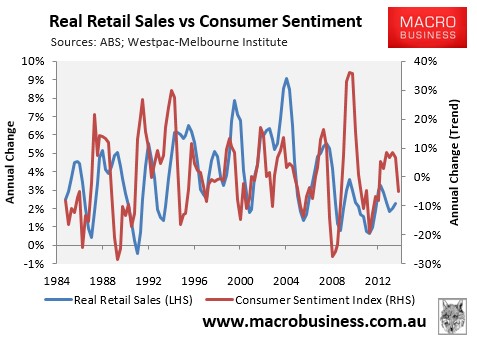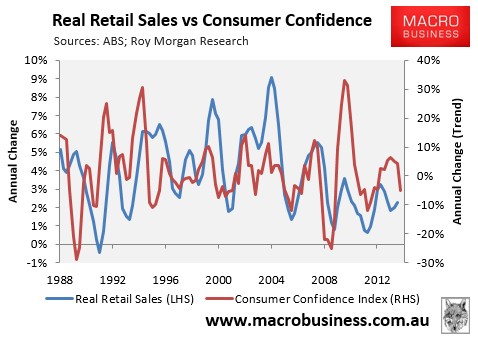 Again, there is a fairly strong correlation.
Consumer confidence can be volatile and we could just as well see it bounce back over the next few months. However, if it does weaken (or remain at current mediocre levels), then it could be a signal that the housing upswing is on borrowed time.
Definitely something to watch.
Related Posts via Categories