A couple more data points this afternoon suggest a turn for the better in iron ore markets in the short term. The Baltic Dry Index is shooting up again, especially the iron ore-centric capesize component: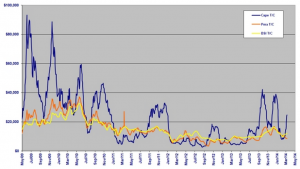 The index has recovered some of its predictive power for iron ore in the past year, nicely signalling a jump in prices of about $30 in mid 2013. So that 's one to watch.
There is also overnight official data on steel production for January and February which came in better at low growth of 4.9% year on year. Here's a chart from BofAML: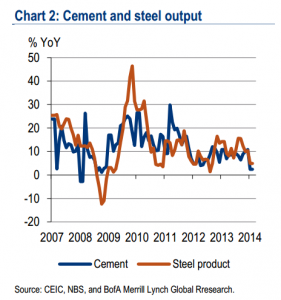 It's a start more akin with 2012 than last year but still better than broader data suggested, and I had feared. This firms the prospects of a modest restock.
Dalian futures are up today 0.5% and Shanghai rebar is down 0.2%. Interesting to note as well that the yuan USD/CNY fix was up 26 points. There's a mini currency war going on up there…
Related Posts via Categories