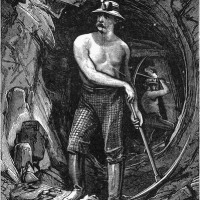 UBS's marvelously named Tom Price (pictured above on recent tour of the Pilbara) has a little note today measuring the impact on iron ore of Chinese authorities attempt to cure Beijing capital of air pollution.
China's dilemma: tighter pollution controls vs. stable economic growth

Many expect the govt to manage pollution via steel production cuts, targeting the vast capacity of Hebei Province. Problem is, this new govt has other key objectives too: allow 'market forces' to deliver industry outcomes + support stable growth (GDP 7.5%yoy). While changes will probably be made to limit the impact of industry pollution, they are unlikely to come at a substantial cost to labour markets & general economic activity, in our view. It follows that the scale of policy risk to China's steel & ore trades is limited.

Quantifying trade sensitivities to a cut in steel production

Looking only at Hebei Province (+190Mtpa crude steel output; quarter of China's total), we quantify the maximum impact to the seaborne iron ore trade flows of a 50Mt cut to its steel production (25% cut)… such a cut would see imported ore demand collapse by 80Mt, almost doubling our current forecast trade surplus to 170Mt.
Big trouble for all concerned if it comes to pass (except for Beijing babies).
Related Posts via Categories