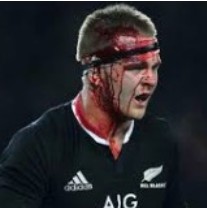 The Reserve Bank of New Zealand's (RBNZ) macroprudential caps on high loan-to-value ratio (LVR) mortgage lending, introduced in October last year, continue to work their magic, with the share of 80%-plus LVR mortgages issued by New Zealand's banks registering another fall (see next table).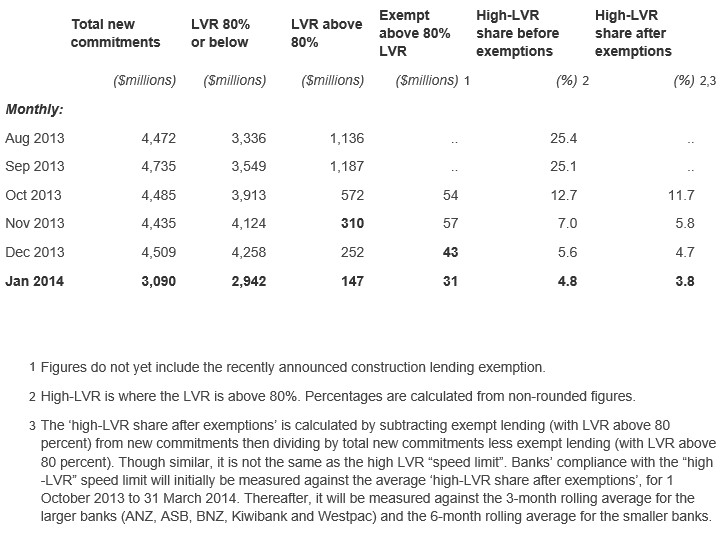 According to Interest.co.nz:
As of October 1, according to new Reserve Bank rules, all banks were limited to committing no more than 10% of their new lending to mortgages exceeding 80% of the value of the property being bought…

In January there was a total commitment of new mortgage lending by the banks of $3.090 billion.

Of this, $2.942 billion was on properties with an LVR of 80% or below, while just $147 million was committed for so-called high-LVR loans (above 80%).

Some $31 million worth of mortgages for loans above 80% but exempt from the new rules were also advanced.

The latest figures compared with a high-LVR portion of lending of 12.7% (before exemptions) and 11.7% (after exemptions) for October.
This is obviously more evidence that the RBNZ's macro-prudential controls on mortgage lending are working to cool the New Zealand housing market, and comes on top of recent house price falls and the ongoing contraction in housing finance approvals (see next chart).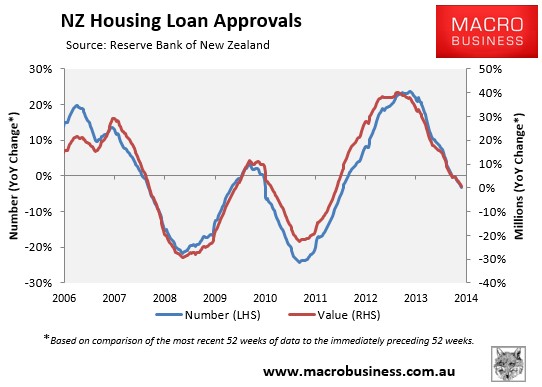 Again, Well done RBNZ. Now, if only the RBA/APRA would take note…
Related Posts via Categories