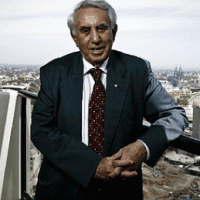 The Australian Bureau of Statistics (ABS) yesterday released dwelling commencement data for the September quarter of 2013, which disappointed registering a 2.0% fall in the number of dwellings commenced over the quarter, but a 2.6% increase over the year (see next chart).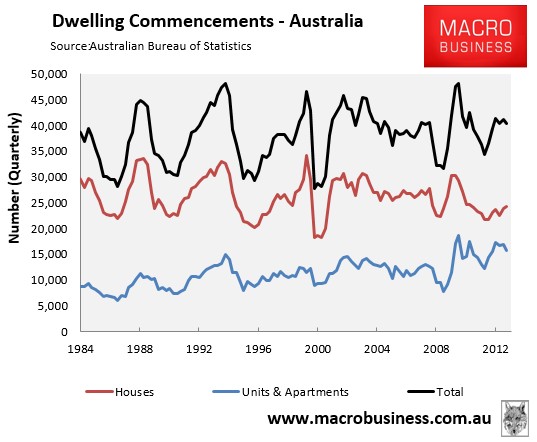 The 2.6% annual rise in dwelling commencements was broad-based, with detached house commencements increasing by 5.2% and unit commencements by 1.6%.
The overall level of dwelling commencements is now running 8% above the 30-year average, although construction rates remain low given the 45% increase in Australia's population over this period (see next chart).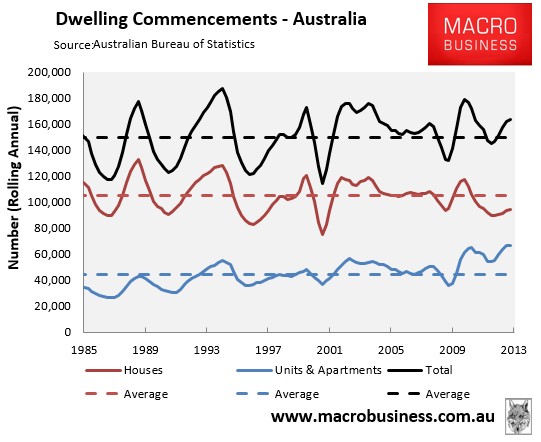 As you can see above, detached house commencements remain depressed – running 10% below the long-run average – whereas unit commencements are booming – running 49% above average.
At the mainland state level, commencements fell in Victoria (-8.5%), which was primarily responsible for the fall in commencements nationally over the quarter, whereas they rose in New South Wales (+8.6%), Western Australia (+4.0%), and South Australia (+2.4%), but were flat in Queensland (+0.2%):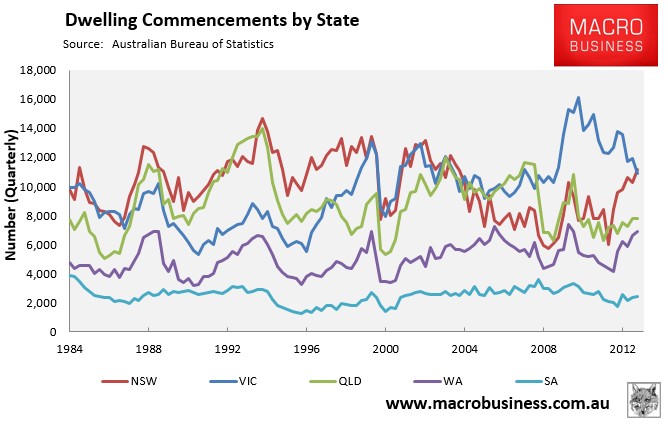 For some reason, the Housing Industry Association of Australia (HIA) seems content with the result, issuing the below statement yesterday afternoon:
"The overall recovery in new dwelling commencements since the trough in March 2012 is still being driven by New South Wales and Western Australia, although Queensland is showing clear signs of improvement," said Harley Dale. "The recovery is also being driven primarily by other dwellings (multi- units) rather than detached housing. Both segments are growing, but annual commencements for detached houses are 9 per cent below their 20 year average while commencements of multi-units are running 35 per cent above their 20 year average."

"This compositional change has an influence on the extent of the boost that domestic manufacturers and retailers will experience from the new home building recovery," added Harley Dale. "Overall, the upward trajectory in new dwelling commencements is still clearly a positive factor for the broader domestic economy."
Martin North from Digital Financial Analytics also produced interesting analysis of the results, noting the strong shift towards units & apartments, which appears to be driven more by affordability constraints than choice:
Looking at the number of houses and units being built, we see a clear trend. Unit construction is up significantly, whereas the number of houses are below their long term trend…
This continues to represent a significant shift in the nature of housing in Australia, with a greater proportion of both owner occupied and investment property being built as multiple units, rather than stand alone houses. We already highlighted the fact that more first time buyers are buying units, and that the average plot size is shrinking fast. The shift in life-style that increased high-rise and medium/high density housing will have on household should be considered, as we are seeing the consequence of chronically high house prices working though to the detriment of many.
Related Posts via Categories