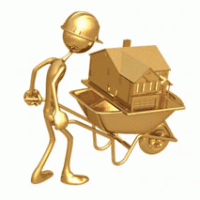 Business Spectator's Alan Kohler has today provided a bullish take on Australian house prices, which he believes could record another year of 10% growth:
…despite all the complaints that Australian house prices are too high for first home buyers, or just too high full stop, the potential is clearly there for more rises in 2014.

Interest rates are going nowhere (neither up nor down, probably for 12 months), incomes and wealth are rising and the emergence of strong investment buying from self-managed super funds and Chinese cash exporters looks to have only just begun.

More importantly, 2013 was the first year of solid gains after three years of flat prices. In fact prices have only been rising for nine months, and mainly in Sydney, which saw an extraordinary 15 per cent rise in the median house price between March and December.

That sort of pace in Sydney probably won't continue (it slowed to an annual rate of 9.6 per cent in December) but other cities that were left out of last year's boom (Canberra, Darwin, Brisbane) could take over and produce another 10 per cent year for the national average.
Certainly, Kohler is correct that momentum is with Australian housing. Perhaps the best short-term indicator of price momentum is housing finance, which is growing strongly and traditionally has a strong correlation with prices (see next chart).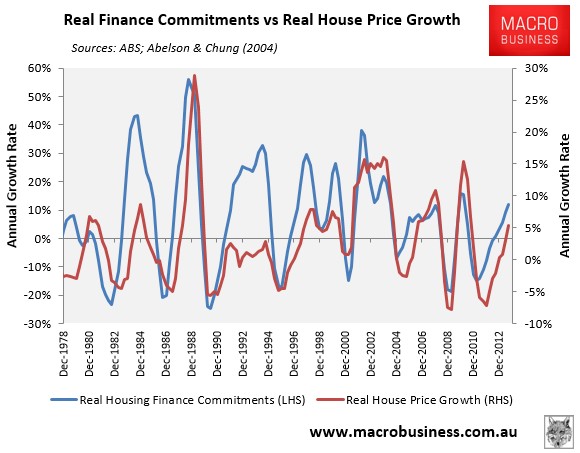 Based on the above chart alone, growth of up to 10% this year is certainly possible, which according to Chris Joye would likely see Australian housing valuations relative to incomes hit their highest ever level by mid-year (see next chart).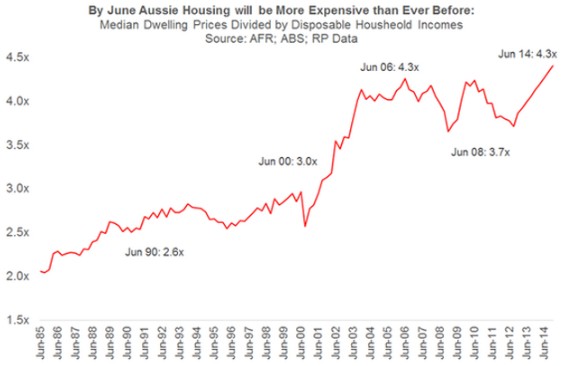 That said, there are dangers lurking under the surface, which raises the risk of a painful correction for house prices down the track.
First, housing demand is being driven primarily by investors, with first home buyers largely absent (see next chart).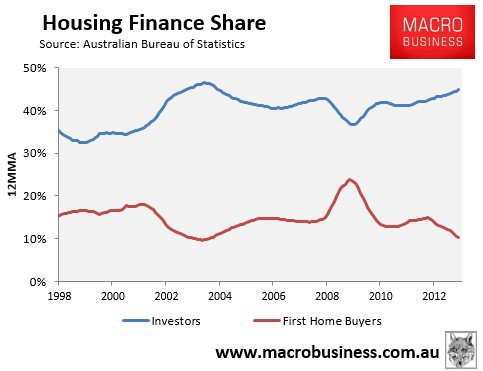 This suggests that demand is largely speculative, rather than based on fundamental demand, which raises the specter of a reversal in sentiment down the road.
Second, the Australian economy is facing rising unemployment and weaker growth as the once-in-a-century mining investment boom unwinds, with this retracement likely to accelerate from 2014 as large mining projects come to completion (see next chart).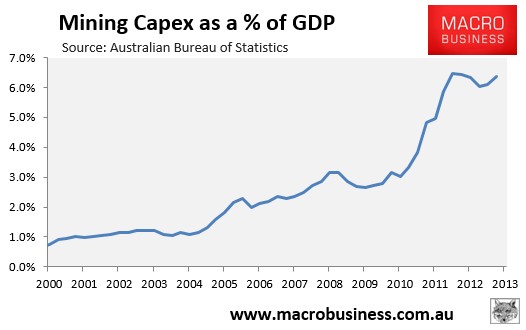 When combined with the falling terms-of-trade and weakening income growth, the fundamentals facing the Australian economy and, by extension housing, are likely to worsen materially, making the current run-up in house prices a dangerous proposition.
Related Posts via Categories