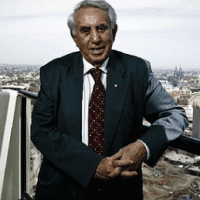 Business Spectator's Robert Gottliebsen ("Gotti") has had a chat with his mate, apartment developer Harry Triguboff, and apparently the dam is about to break on Sydney housing, with a flood of apartments supposedly destined to hit the market:
New ingredients are emerging that look set to generate a surplus of apartments in Sydney in two or three years – the first time that has happened for a long time.

The two new ingredients are the emergence of Chinese developers and a looming change of attitude by local councils and planning authorities.

Those buying Sydney apartments in the current strong market and those commenting on the 2014 buoyant forces need to be aware of the looming trend reversal…

I reached the Sydney conclusion after a conversation with Sydney's largest apartment builder and owner Harry Triguboff, who explained to me that he is seeing new trends in Sydney, which, if they continue, will cause of surplus of apartments. However given strong demand he does not expect the market to collapse but the new ingredients will clearly affect price levels. And Triguboff does not expect the emerging over supply of apartments in Sydney to affect rents…

Triguboff says that while the local councils and planning people are still tough "the dam walls are cracking" as these groups and the NSW government realise the damage that has been done to dwelling affordability in Sydney.

…the Chinese buying apartments from Australian developers like Harry Triguboff's Meriton, but Chinese developers are now entering the market. Unlike smaller Australian developers the Chinese do not need to use Australian banks and are using their own banks to fund the developments. Accordingly, funding is now plentiful and the two pillars of supply constraint are crumbling.
While Gotti deals in anecdotes, I prefer to look at the official (unbiased) dwelling approvals data published by the Australian Bureau of Statistics (ABS). And what does the ABS data tell us? Well, as shown by the next chart, Sydney approvals have thankfully picked-up following a prolonged period of weakness, whereby approvals hit their lowest level in at least 30 years. However, it's hard to see a looming oversupply given that approvals are only running at roughly the same level as the 1990s and early-2000s peaks, and given that a prolonged period of catch-up is required following the last decade's construction slump.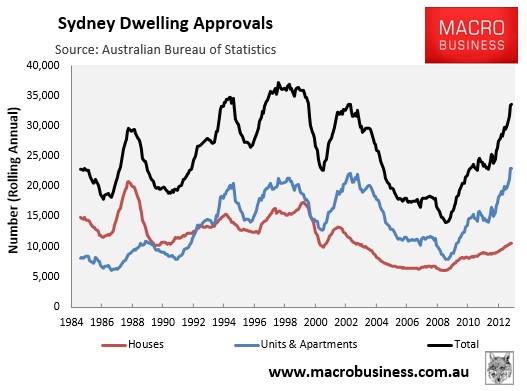 The supply situation is perhaps more clearly shown by the next chart tracking NSW construction against population growth: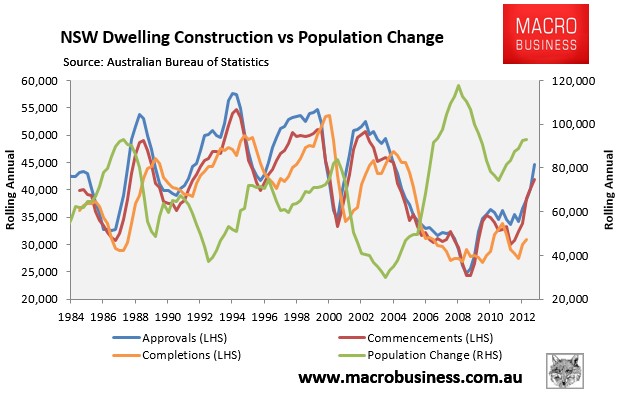 Based on the above, it's hard to see an oversupply developing anytime soon, not that it would be a bad things for prospective home buyers and renters alike.
Related Posts via Categories