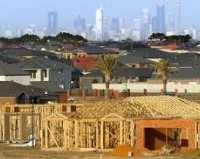 I have been a long-time skeptic of the purported environmental benefits of forced urban consolidation, which seeks to ameliorate concerns that excessive suburban sprawl is increasing humanity's ecological footprint and greenhouse gas emissions. By restricting urban growth, it is claimed that these 'costs' can be reduced via less car dependence and energy usage, as well as more efficient (intensive) use of resources.
My view is that many of the policies implemented by planners to restrict growth and reduce urban sprawl tend to have the opposite effect, thus eliminating many of their purported benefits (in addition to reducing housing affordability).
Perverse outcomes occur principally because measures aimed at excluding growth from one jurisdiction – whether via urban growth boundaries (UGBs), greenbelts, or slow land release (restrictive zoning) – naturally generates pressure to accommodate it elsewhere, and exurban, underdeveloped jurisdictions well beyond the metropolitan limits tend to be more inviting.
Take, for example, UGBs, which seek to channel new development into built-up areas and exclude it from undeveloped ones. In practice, the imposition of UGBs causes many lower income households to 'leapfrog' the boundary and settle in far flung exurban towns where housing is more affordable. UGBs, therefore, can act to exacerbate urban sprawl and increase car reliance and energy usage, which has detrimental distributional impacts in particular on lower socio-economic groups.
A related unintended consequence of urban consolidation is that 'densification' has often ceased to occur at its historically natural locations nearer the urban core and has instead shifted further away into less efficient locations (i.e. far away from employment and amenities). The reason for this is that the price of land is forced up so much by the growth constraint that households are unable to afford the 'premium' price commanded by more efficient locations, and are forced to locate instead at 'less unaffordable' but also less efficient locations. Essentially, budgets are squeezed so much by high land prices that households are forced to trade-off both space (smaller homes) and location efficiency (i.e. live further out).
This phenomenon is reflected in dense fringe suburban development, whereby postage stamp sections are crammed into cul-de-sacs in patterns that have been mathematically designed to maximise the number of salable properties. They typically also have narrow streets, minimal number of intersections (as it's a waste of valuable space), and minimal public green space. Such conditions also allows little room to plant trees or veggie gardens, and means that homes are so close together that many do not contain roof eves or verandas and have poor air flow, thereby requiring greater air conditioning in the summer.
My concerns about the pernicious impacts of forced urban consolidation have received inadvertent support today from Helen Brown, Lecturer in Health, Safety and Environment at Curtin University, who argues that the lack of trees in new housing developments is significantly increasing the use of air conditioners and energy use:
Air conditioners across the country are running on full this week as Australia battles a heatwave – but are we missing an obvious, leafy solution?

Trees, which provide shade and act as natural air conditioners, play an important role in helping to create cities that are more resilient to extreme temperatures as the climate warms. In urban areas, however, trees are under considerable pressure.

With last year's record hot weather, and projections for more frequent and severe heatwaves, this week's weather may be a sign of things to come.

So why are all the trees removed in so many of our developments?

The population of major Australian cities is expected to double in the next four to five decades. Planned increases in urban density are likely to result in the removal of a significant number of trees from urban areas.

Fewer trees in cities help create urban heat island effects – that's when buildings and footpaths absorb the sun's heat and then radiate it back out. Increases of up to three degrees are common and, in extreme cases, night-time increases of up to 12 degrees have been recorded.
It's worth noting that housing developments built in the 1980s and 1990s, such as Rowville in outer Melbourne, typically have large blocks, ample green space, and lots of tree cover. In short, they are a desirable places to live. Now compare these 20 to 30 year-old developments with the cluttered rubbish produced today, and tell me which is better for the environment (let alone housing affordability)?
Related Posts via Categories