Some recent figures for Chinese steel production shows it continues to overproduce at a breakneck pace. As we know, the muted steel rice rally of the last month has stalled at still weak levels suggesting oversupply and some more data today courtesy of Morgan Stanley underlines the point.
First, steel inventories at major mills are still very high: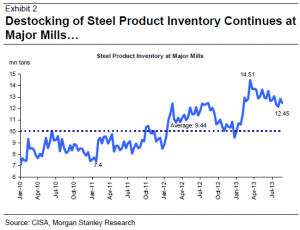 This mitigates against the likelihood of a big restock at the end of this year, though as I mentioned this morning the policy rich October period will be important on that front. These last two years really have been out of the box!
Meanwhile, steel production is easing to date more slowly than in previous years: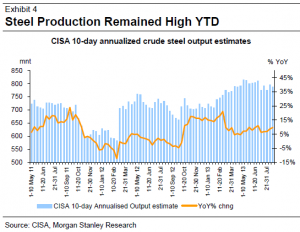 And ore stocks remain lowish, which I expect to persist relative to previous years unless more stimulus is forthcoming.
Related Posts via Categories