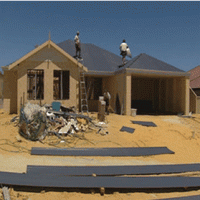 As noted by Houses & Holes earlier, UBS has today come out with a note upgrading its housing forecasts. It now expects 10% price growth this calendar year and 5% the next, as well as the following pick-up in dwelling construction:
In this detailed note we reiterate our forecast for dwelling commencements to pick-up moderately to 154k in 2013 (was 152k), and 160k in 2014. This view is supported by the RBA slashing rates to a record low, driving: 1) a rebound in prices to 5% y/y; 2) approvals up to a ~160k trend; 3) boom-like auction clearance rates; 4) lending surging by 20% a.r.; 5) housing affordability improving sharply to near a decade-best; 6) rental yields becoming relatively very attractive; 7) 'time to buy a dwelling' sentiment near the highest level since 2009; 8) households' surveyed attitudes to debt becoming less cautious; 9) strong population growth (1.8% or 394k y/y); & 10) 1st home buyer incentives more favouring new housing.
I will note briefly that the forecast pick-up in dwelling construction is barely a pick-up at all. In the 2012 calendar year – a bad year for dwelling construction – commencements totalled 151,370. Moreover, the average number of dwelling units commenced over the past 28 years is 151,214, meaning that the forecast increase in commencements is only 2% (2013) and 6% (2014) above long-run average levels, despite Australia's population having grown by around 45% over that time period (see next chart).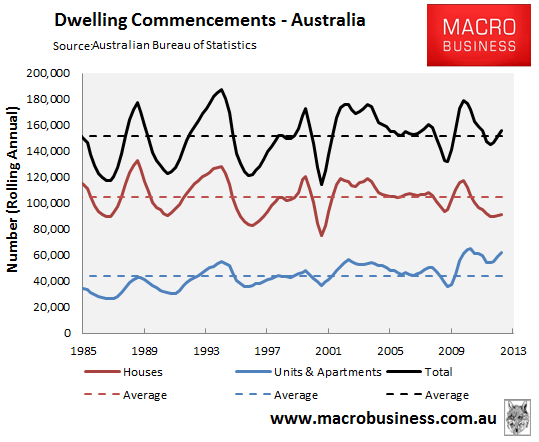 If all we get from record low interest rates and tens of millions of dollars of subsidies thrown at first time buyers is rising house prices, then it is an epic fail on behalf of policy in Australia. It also once again highlights why wide-ranging structural reforms to the supply-side of the market are paramount, not additional demand-side stimulus.
unconventionaleconomist@hotmail.com
Related Posts via Categories